Stop to smell the roses and read this SR 89A historic marker
Stop to smell the roses and read this SR 89A historic marker
By Laurie Merrill / ADOT Communications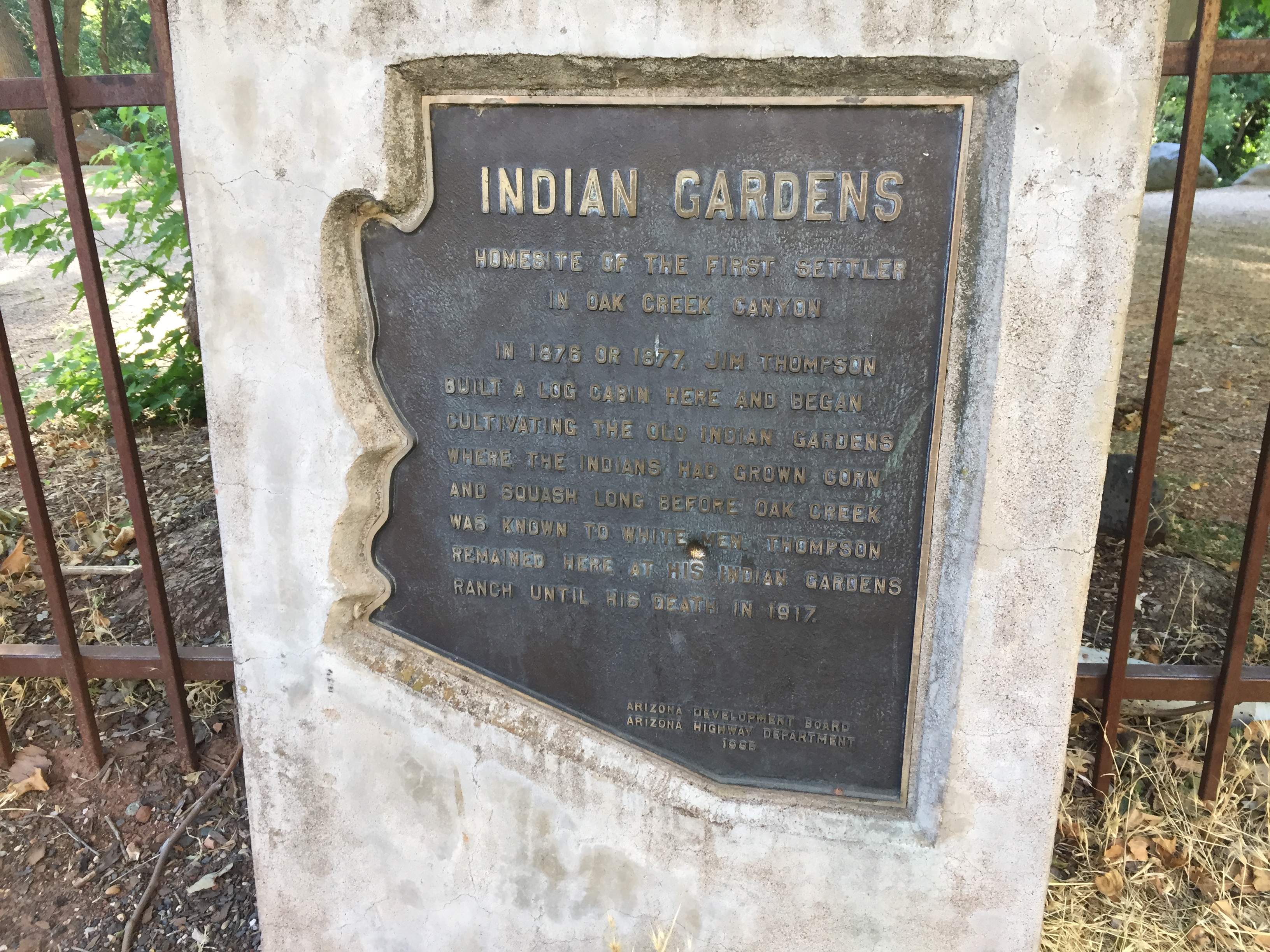 It isn't exactly news that history abounds along Arizona highways. A casual driver can learn about historical figures ranging from Hi Jolly to Tom Mix by visiting various historical markers and monuments.
But what might be news to you, as it was to me, is the Indian Gardens historical marker on State Route 89A as you head to or from Oak Creek Canyon.
Like many a motorist intent on reaching the leafy shade and instant heat relief of a dip in the creek, I've driven past this marker many a time, despite signs pointing it out.
But recently, reluctant to return home from a socially distant vacation along the creek, it suddenly seemed a good idea to visit the site at milepost 378.  
Erected by the Arizona Department of Transportation in 1965, the marker commemorates Oak Creek Canyon's first settler, a man named John James Thompson.
Like other ADOT historical markers, this plaque is filled with intriguing facts.
"In 1876 or 1877, Jim Thompson built a log cabin here and began cultivating the old Indian Gardens where the Indians had grown corn and squash long before Oak Creek was known to white men. Thompson remained here at his Indian Gardens Ranch until his death in 1917."  
Here is a brief history of Thompson gleaned from other historical accounts: Born in Ireland, he ran away to the United States as a teenager and fought in the Civil War. He also prospected for gold, herded cattle and ran a ferry boat before using squatter's rights to settle on the Indian Gardens Ranch.
He and his wife, Maggie, had nine children.  When their youngest was born, Thompson was 72 and Maggie was 47. Today there are more than 100 Thompson family descendants. You can learn more about them at the Sedona Heritage Museum and through the Sedona Historical Society.
What is the moral of this story? Perhaps it is that while some of us can't stop and smell the roses, we can still stop for an historical marker. I'm glad I did!