Students get hands-on look at science behind highways
Students get hands-on look at science behind highways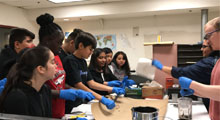 By Lori Baker / ADOT Communications
Touring an ADOT Materials Lab, students from Copper King Elementary School in Phoenix learned how math and science skills taught in the classroom are used to build roads and other infrastructure.
More than 50 seventh- and eighth-graders from Copper King's Science, Technology, Engineering, Arts and Mathematics (STEAM) Academy took turns touring different sections of the Phoenix lab and participating in hands-on activities. They viewed pavement management, mix design, binder and asphalt, structures and the annex where testing equipment is calibrated. They touched materials and learned about engineering overall. They also got a close-up look of the equipment trucks that pavement management uses.
"This was a unique experience to show students how important the skills and knowledge they learn in school through their math, science and technology work are in many professions," said Allan DeOrnellas, Copper King Elementary STEAM Academy teacher.
"The tour helped demonstrate the importance of being precise with their work and that improvements are being made every day in many aspects of our lives that we do not see," he added.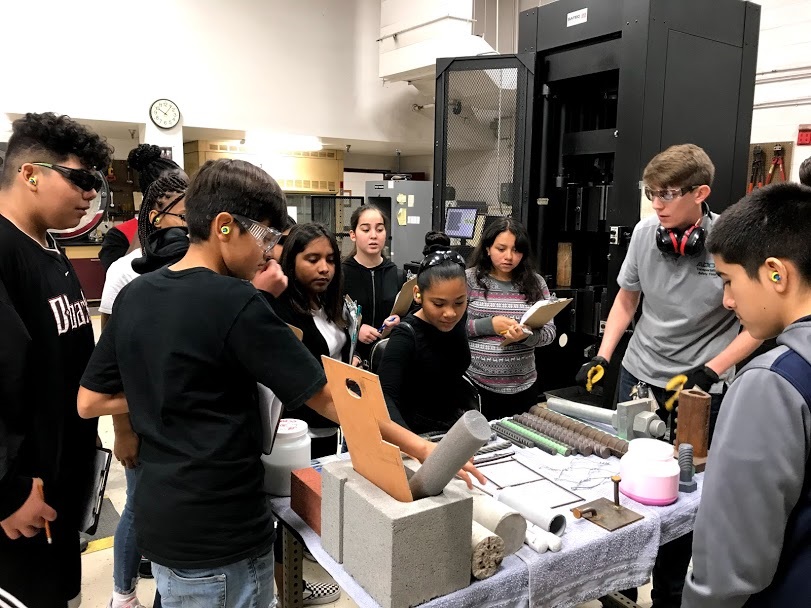 Copper King eighth-grader Sebastien Peterson, son of an ADOT employee, helped organize the tour as part of his Chief Science Officer program.
One of his favorite activities was feeling the vibrations from "Thumper," a falling weight deflectometer that engineers use to test the strength of the soil where roads are constructed.
Also popular was performing science experiments like creating gooey asphalt, and breaking concrete cylinders and steel rebar.
"The kids were really engaged and inquisitive,'' said ADOT Assistant State Materials Engineer Paul Burch.
The material labs tour was a follow-up activity after Deputy Director for Transportation/State Engineer Dallas Hammit met last fall with STEAM Academy students to explain how ADOT builds and maintains Arizona's transportation system.
Burch and ADOT Assistant State Construction Engineer Jesús A. Sandoval-Gil said the materials lab welcomes other school tours.