'Sunscreen' spares transplanted saguaros from sunburn
'Sunscreen' spares transplanted saguaros from sunburn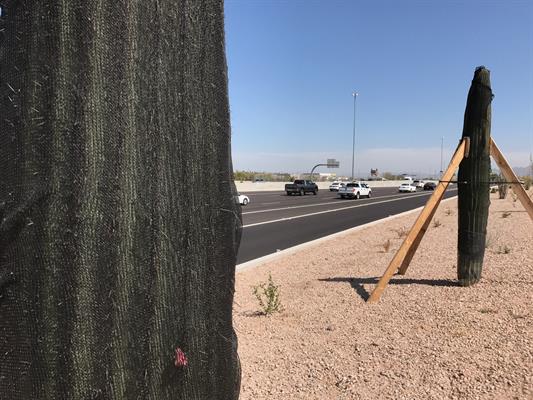 By Caroline Carpenter / ADOT Communications
Anyone who's spent time in Arizona knows the value of shade and sunscreen when it comes to preventing sunburn.
ADOT is applying that principle to saguaros transplanted along the widened Loop 101 Pima Freeway in Scottsdale, temporarily cloaking some in black netting to help them get established. The strategy stems from not always being certain exactly which sides of the saguaro originally faced the most intense sunlight. The sides that didn't can be vulnerable to sunburn.
The goal: helping the saguaros take root in their new homes faster, better and without sunburn.
When ADOT builds or widens a roadway, native plants are transplanted to a temporary nursery and replanted after construction is complete. In August 2016, after a portion of the Pima Freeway was widened, ADOT replanted 1,000 cactuses and trees.
Visit the ADOT YouTube page to watch crews transplanting saguaros along Loop 101. Crews are also relocating native saguaros and other plants from the Loop 202 South Mountain Freeway construction.