Surveys give valuable feedback on quiet pavement
Surveys give valuable feedback on quiet pavement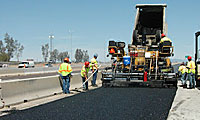 We asked and you answered!
Back in December when we told you about the Quiet Pavement Pilot Program, we launched a survey asking for your thoughts on freeway surface conditions in Maricopa County.
We had no idea what sort of response to expect, but you can bet we were pretty pleased when more than 3,600 people completed the online questionnaire!
That translates into a lot of quality feedback that will be utilized in the pilot program study. Public comment is vital and will serve as one of the factors that helps determine whether or not the noise mitigating effects of rubberized asphalt last the test of time.
So … are you curious to find out what the survey says?
Well, we're happy to report that the results were strikingly positive!
As for general surface condition, 93.4 percent of survey respondents describe Phoenix Metro area freeways as either "excellent" or "good."
When it comes to smoothness, 79.3 percent say Valley freeways are "above average" compared to freeways outside the area and less than 2 percent say road smoothness is "below average."
And as for noise…86.6 percent say Phoenix metro-area freeways are quieter than freeways outside the area with only 2.8 percent saying they're louder than average.
A whopping 99 percent indicate they have heard about rubberized asphalt and 96.5 percent of respondents think ADOT should continue to use it on Phoenix metro freeways!  
Since ADOT has been applying rubberized asphalt to Phoenix metro freeways for about six years, we wanted to know if anyone has noticed a difference in smoothness and noise…
95.6 percent say they've noticed an improvement and only 2.2 percent have not noticed any change (2.1 percent weren't sure or hadn't driven Phoenix freeways prior to six years ago).
And our personal favorite…95.4 percent of survey-takers rate ADOT as either "excellent" or "good" at maintaining freeway surfaces (with only 0.8 percent giving ADOT a "poor" grade)!
One more interesting tidbit …
We asked people to tell us approximately how many miles they travel ONE WAY on their daily commute. Interested to see how your commute stacks up?
Of the 3,532 people who answered this question …
35.7 percent travel 0-10 miles
28.9 percent travel 10-20 miles
18.4 percent travel 20-30 miles
7.2 percent travel 30-40 miles
4.9 percent travel more than 40 miles
5 percent weren't sure
The survey is now closed, but you can still leave your comments and questions on our Facebook page or here on the blog (our initial post has 36 comments and counting!).