Telling (and showing) you what's happening with these storms
Telling (and showing) you what's happening with these storms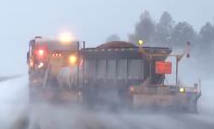 By Steve Elliott / ADOT Communications
ADOT crews have been working around the clock to keep highways open and motorists safe since these back-to-back storms began hitting Arizona's high country last week.
We've highlighted these efforts as well as the latest conditions through our main social media accounts: Twitter (@ArizonaDOT) and Facebook (facebook.com/AZDOT). Here's a quick roundup of videos and images from the past few days ...
Our two TowPlows are clearing Interstate 40 between Flagstaff and Williams. This video of a TowPlow in action has been very popular on Facebook:
On assignment in Flagstaff, ADOT Public Information Officer Ryan Harding shared how our North Central District's snow desk helps gets plows where they are needed.
Videos and photos shared by field personnel have helped us share important safety messages, such as:
1. Don't park along highways to play in the snow.
2. Give our snowplows room to work.
When wicked weather hits, nothing beats having a network of traffic cameras showing conditions around the state. This video, one of many offered in the past few days, showed conditions Saturday beyond I-40 and I-17 near Flagstaff.
Our followers have been part of this effort as well. In addition to asking about traffic conditions, many of you have shared details and images (we make sure these were taken from the passenger seat before retweeting) that have helped us give everyone the information they need. One example:
Finally, many of you have shared praise for the ADOT personnel working tirelessly to keep highways open. We send them comments such as this one, and we thank everyone who's taken time to offer kind words.
@ArizonaDOT best snow plowers ever! They are so on top of it once it starts snowing. Great job.

— Kristi Ormonde (@heavenon7thflor) January 23, 2017