Thank you to all our veterans
Thank you to all our veterans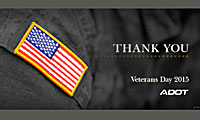 With more than 300 employees having served in the U.S. armed forces, ADOT is an active participant in the federal Transition Assistance Program connecting those leaving military service with jobs.
The Transition Assistance Program, created by a 2011 law and administered by the U.S. Department of Defense and U.S. Department of Veterans Affairs, helps service members develop comprehensive plans to pursue education, search for jobs or start businesses after their military careers.
ADOT's participation in the program is just one way that the agency works to assist veterans. In honor of Veterans Day tomorrow, we thought we'd look back at our previous blog posts and videos that have focused on some of these efforts…
ADOT rolls out new driver license/identification option for veterans
In 2013, ADOT's MVD rolled out a new driver license/ID card option especially for veterans. Those who have served or are currently in the U.S. military can have the word "VETERAN" printed on the front of their Arizona-issued driver license, commercial driver license or identification card. At about the same time that year, veterans applying for an Arizona-issued commercial driver license were informed of a new option that allows applicants whose position in the military required the operation of a commercial motor vehicle to request a waiver of the commercial driver license skills test.
ADOT's Construction Academy prepares participants for the workforce
ADOT's Construction Academy is open to veterans interested in construction-industry careers. This pre-apprenticeship training program gives participants a great start in the field and is funded with federal grant money. It's free to participants, who get to experience a variety of trades.
ADOT partners with U.S. Army for PaYS program
This video shows how a partnership between ADOT and the U.S. Army helps afford job opportunities to soldiers once they're ready to leave the service. The U.S. Army's Partnership for Youth Success (PaYS) program also provides ADOT with trained, highly skilled individuals, making it a real win-win for everyone.
Arizona StandDown
For years, ADOT's MVD has participated in StandDown outreach events, designed to connect homeless and at-risk veterans with resources. On the blog, we've highlighted the assistance MVD employees provide to participants attempting to get a driver license or state identification card – important credentials to have when applying for employment, benefits and other services.
MVD assists returning soldiers
In 2011, this video and accompanying blog post showed how more than 300 soldiers returning home to Fort Huachuca were welcomed by family, friends and the MVD. Representatives from MVD were on hand to provide driver license, title and registration assistance through a "Reverse Soldier Readiness Process" that's intended to help soldiers easily shift back in life stateside.
We'd like to say thank you to all veterans for your service and sacrifice!
ADOT and MVD offices will be closed tomorrow in observance of Veterans Day. We will reopen for normal business hours on Thursday, Nov. 12, but you can always check az511.gov for travel conditions around the state. You can also visit ServiceArizona to complete many MVD transactions online.