Thank you for supporting great causes through specialty license plates
Thank you for supporting great causes through specialty license plates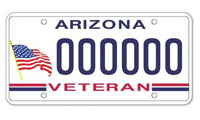 By Ryan Harding / ADOT Communications
We recently shared that the Motor Vehicle Division distributed more than $6.5 million to Arizona charities and nonprofits in 2015 through its specialty license plate program. And that's all thanks to you.
Last year, almost 390,000 of you either got a specialty plate for the first time or renewed one you've had. And $17 of the cost of each of those plates went to great causes.
Want to explore how much various plates contributed to that total? We've created an interactive graphic below so you can do just that. Just mouse over slices of the pie chart or the name of a plate below to see each contribution.
As we reported, the Arizona Cardinals, Veterans and Freedom license plates were the top three for 2015. But whether the amount a specialty plate raises is large or not-so-large, each contribution is valuable.
If you don't have a specialty plate, you can check out the various specialty license plate designs and order at ServiceArizona.com.