Those mysterious stripes mean we're getting ready for snow around Flagstaff
Those mysterious stripes mean we're getting ready for snow around Flagstaff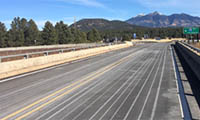 By Mackenzie Kirby / ADOT Communications
Before the first snowflakes fall in northern Arizona, one of the most common questions we get in ADOT's North Central District office is: "What are those white stripes all over highways around Flagstaff?"
Did a tanker spring a leak? Did we groove the road? Could it be the work of extraterrestrials?
Those white stripes show that ADOT crews have been out in force preparing for the coming storm and expected slippery conditions by putting anti-icer on highways around Flagstaff.
They spent the last two days pretreating the highways and ramps. At far right of the image above, you can see how the anti-icer solution is sprayed. This liquid dries into the white stripes that often leave drivers wondering.
When snow arrives, these lines dissolve the moisture and put it to work preventing ice. When our plows arrive, they are able to remove moisture without ice sticking around.
While ADOT crews have readied Flagstaff-area highways and are set to man plows when snow arrives, we hope you saw our release earlier today noting that the safest option is delaying travel while snow falls. Once the snow stops and our plows have cleared highways, that's a good time to head for the snow, though you should leave prepared for the unexpected and the potential for spending extended time in winter weather.
You'll find tips for driving in winter conditions at azdot.gov/KnowSnow.