Throwback Thursday: ADOT has kept Arizona moving since its earliest days
Throwback Thursday: ADOT has kept Arizona moving since its earliest days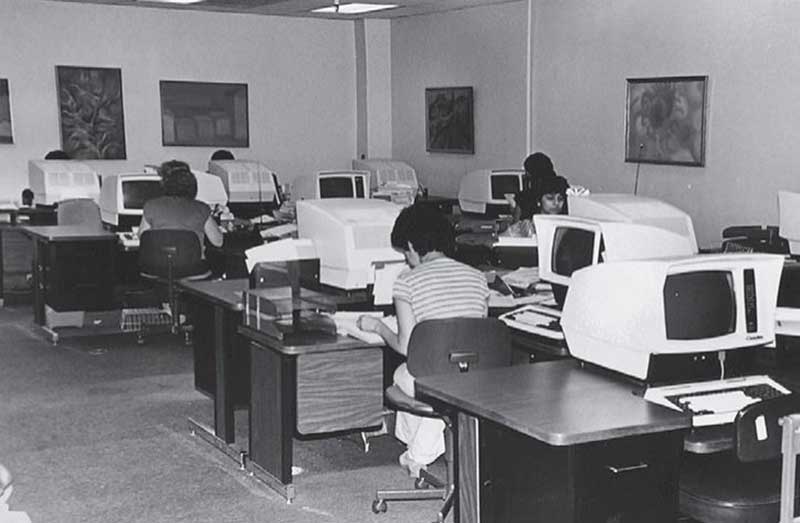 By Angela De Welles / ADOT Communications
From making office appointments online to creating personalized accounts, ADOT Motor Vehicle Division customers have more and more opportunities these days to get out of line and stay safely on the road.
While nobody knows what the far-out future holds, we are certain that time-saving technological advancements aren't new around here. In fact, it's safe to say that many of the steps taken decades ago have helped the agency get to where it is today.
Take for example, "the computerization of the master file of all title records," a year-long project that wrapped up back in July 1984.
According to Newsbeat, ADOT's employee newsletter of the day, "the project saw 3.75 million title records entered into the computer."
Quite an accomplishment!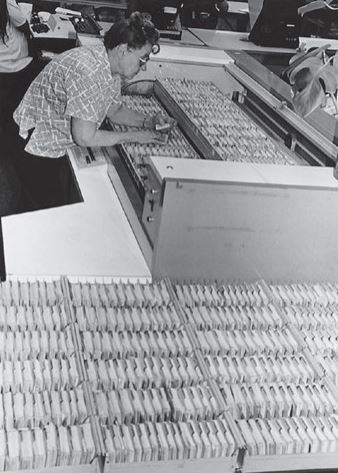 In the photo at right, Ronnie Moore, a motor vehicle operational clerk, checks some of the last title identification cards to be computerized. Newsbeat boasted that all title records could now be called up with registration records on computer terminals, which are showcased in the photo above.
A few years later, the agency was still learning what computers could do for operational efficiency.
In a column for the November 1986 issue of Newsbeat, Administrative Services Director Frank Bowman wrote that technological advances in computer hardware and software had allowed the department to move forward since the late 1970s.
"The number of computer terminals in our department has increased to more than 700 from about 100 a few years ago. New user applications are being addressed almost daily. For example, our payroll and personnel information today is transmitted electronically. That is progress!"
Bowman wrote that employees were experiencing just the "tip of the iceberg," explaining that software programs, including the "new" Computer Aided Drafting Design System (CADD) in the Highways Division, MVD's Tax and Revenue Group Automate Tracking System (TARGATS) and Administrative Service's Transportation Cost System (TRACS), would give employees an even greater capacity to work more efficiently.
"New technology has brought ADOT into the 1980s...Our plan is to continue to utilize new developments in automation to provide the department with state-of-the-art capability. We will take this challenge into the 1990s."
It makes you wonder if ADOT employees in the 1980s ever could have imagined how far the agency would continue to advance thanks to the foundation they built.