Throwback Thursday: Getting our kicks on Route 66 (or at least at the port of entry)
Throwback Thursday: Getting our kicks on Route 66 (or at least at the port of entry)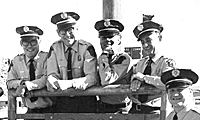 By David Rookhuyzen / ADOT Communications
Today we're throwing back to these uniformed men standing outside the US 66 port of entry near Kingman in 1978.
These Motor Vehicle Division officers were being honored as ADOT employees of the month for repairing and remodeling the facility.
Until 2010, ADOT's enforcement officers were part of the Motor Vehicle Division. Eight years ago, ADOT formed the Enforcement and Compliance Division to focus more on commercial vehicle safety.
That isn't the only change in the four decades since this photo was taken. Kelly Lightfoot, who oversees operations at the Kingman and Topock ports of entry, says ADOT's current Kingman facility isn't where it was back in 1978. A new structure on US 93 near State Route 68 opened in 1998.
The state-certified police officers with ADOT's Enforcement and Compliance Division focus on transportation issues including commercial vehicle enforcement, title, registration and driver's license fraud, unlicensed auto dealers and commercial vehicle permits.