Throwback Thursday: High flying meets Hollywood in Phoenix
Throwback Thursday: High flying meets Hollywood in Phoenix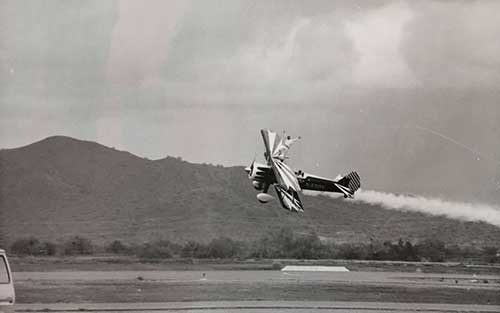 By David Rookhuyzen / ADOT Communications
The thrills of aerobatic piloting skills are on full display in these photos taken at the Festival of Flight, an airshow held at the Phoenix Deer Valley Municipal Airport in April 1978.
The show was sponsored by community service organization the Arizona Jaycees. It featured, among other things, a visit by the U.S. Navy's famous Blue Angels squadron, demonstrations from the Red Devils Aerobatics Team (who would rename themselves the Eagle Aerobatics Team the following year) and a presentation of the quick liftoff ability of the KOOL News helicopter.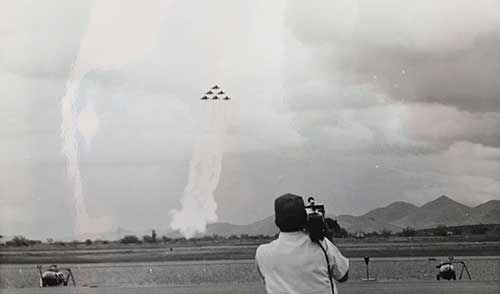 But local spectators weren't the only ones watching the high-flying hijinks. Hollywood crews were also on hand as part of the filming for the 1980 movie "Cloud Dancer," starring David Carradine in the role of an aerobatic pilot. The film would use footage of the actual aerobatics from this show, as well as others held that month at the Chandler Municipal Airport and Falcon Field Airport in Mesa.
Actor Joseph Bottoms was so fascinated by the sport of aerobatic flying that he afterward earned his pilot's license.
And apparently there was some tension as both the filming and air show tried to happen at the same time.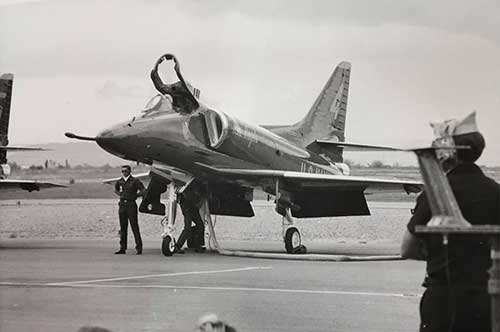 "The maneuvers of the national champion Red Devils, crack paratroopers and the Navy's storied Blue Angels were sort of allowed to happen in between (filming)," according to a story in the Arizona Republic.
So why is ADOT, your friendly statewide agency in charge of roads, throwing back to an event at a municipal airport? Because, as the transportation department, we also work to help in the planning and funding of projects for the 69 airports across the state.
Our Aeronautics Group, part of ADOT's Multimodal Planning Division, helps develop the five-year capital improvement plan, which parallels plans formulated by the Federal Aviation Administration. The state's airport-assistance programs are designed to pay for 50 percent of non-federally covered costs, which is usually 2.5 percent of any given project. The ADOT website has more on the Five-Year Airport Capital Improvement Program.
Don't doubt our airports need this kind of investment to grow and develop. According to a 2012 statewide study, the state was fifth in the nation for active general aviation aircraft. In fact, five of Arizona's general aviation airports were ranked by the FAA in the top 25 in the country, while three of those – Deer Valley, Ernest A. Love Field in Prescott and Falcon Field – were in the top 10. In 2011, Deer Valley was ranked as the busiest general aviation airport in the country, with over 300,000 operations.
And the benefits of Arizona's airports are no small potatoes. According to a 2017 FAA study, Arizona's 40 general aviation airports had a $1.03 billion economic impact and provided 4,915 jobs.