Throwback Thursday: The Highway Hawk was one busy bird
Throwback Thursday: The Highway Hawk was one busy bird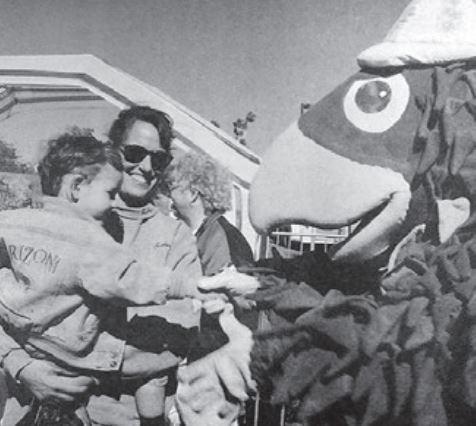 By Angela De Welles / ADOT Communications
From parades and county fairs to school assemblies and community events, ADOT's official mascot made it a mission to educate children and adults about highway safety.
Naturally, we want to know how this human-sized bird so obsessed with safety got its start with ADOT. Unfortunately, the Highway Hawk, who has made fewer appearances in recent years, didn't respond to requests for an interview.
But reader, we have the next best thing: an article from the April 1996 issue of an ADOT newsletter that spells out the Highway Hawk's origin story: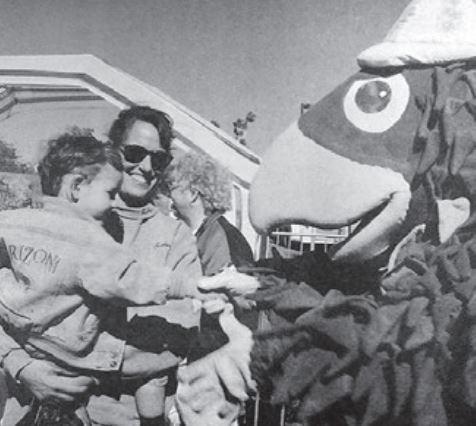 "The idea of creating an ADOT mascot was hatched by the Community Relations Office to respond to a need identified by those attending a recent Statewide District Maintenance Engineers Meeting," said Tom Foster, the District Maintenance Engineer for what is now ADOT's Northwest District.
"We think it's important for people to have a positive image of ADOT. And the best way to do that is to educate people about what we do and how to be safe on the highways. The hawk was chosen as the mascot after careful evaluation of all the suggestions submitted by employees. Other factors taken consideration included the type of character that would convey a friendly but strong image, the functionality of creating a costume for each idea, and the desire not to duplicate other high-profile mascots."
According to the article, a committee made up of members representing education, ADOT, the Department of Public Safety, the Governor's Office of Community and Highway Safety and the construction industry developed a school program for the Highway Hawk.
While the hawk doesn't get out much anymore, ADOT's mascot lives on through memories. Here's how ADOT spokesman Doug Nintzel recalls the Highway Hawk's heyday: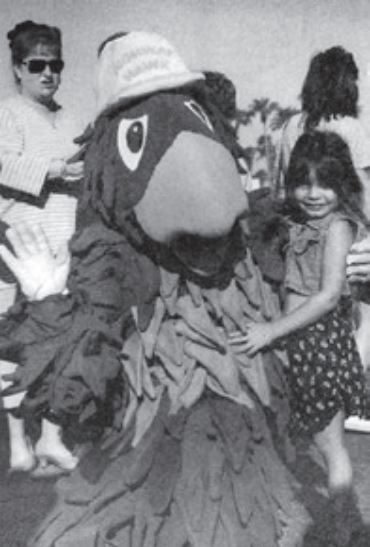 "He was a safety ambassador for many programs, including school visits and community events. Those included our 'walk, bike or skate' parties on the pavement where we celebrated upcoming freeway openings," Nintzel said. "The Hawk was always there to remind folks to keep an eye out for safety. Like many mascots, he was a big hit with the kids. I remember we also got him into local parades, including the Fountain Hills Thanksgiving Parade and the Electric Light Parade in Phoenix."
Traffic Control Operator Raymond Shaban started with ADOT in 2005 and wore the Highway Hawk costume many times throughout the years. He also has some memories from those early days.
"It was pretty hot inside the costume," said Shaban, adding that there was a small fan inside the outfit to make the temperature a bit more comfortable.
Shaban actually had some experience portraying other mascots before coming to ADOT, making him a natural to don the costume. He particularly remembers playing the Hawk during ADOT's freeway openings and even got to meet Governor Janet Napolitano as the Hawk during one event.