Today in Arizona Transportation History
Today in Arizona Transportation History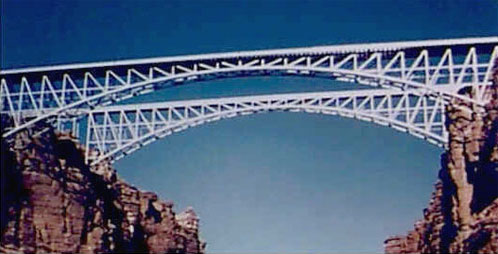 We've really enjoyed celebrating Arizona's transportation history this week on the blog…
And, as we promised, we plan to keep the history theme alive throughout the state's Centennial year. 
One way we plan to do so is to celebrate important milestones in our state's transportation history through a new series: Today in Arizona Transportation History -- a semi-regular feature we'll run all year long spotlighting what happened on that particular day in transportation history.
We'll get started today … but we're going to have to cheat a little on this one since we didn't kick off the series last month!
Jan. 12, 1929
Back in 1929 on Jan. 12, the Navajo Bridge – complete with a 616-foot arch – opened to traffic.
Located on US 89A in northern Arizona's Marble Canyon, the bridge was the only span to cross the Colorado River between the Green River in Utah and Topock Gorge in Arizona – a distance of some 600 miles! Because of that, the bridge was able to make a big impact on transportation and the economy of the northernmost part of the state.
This account comes from the National Parks Service website:
"It was an historic day when, on January 12, 1929, the bridge was opened to traffic. At the time, it was the highest steel arch bridge in the world and made traveling between Utah and Arizona much easier. No longer did travelers have to contend with the moods of the Colorado River at Lees Ferry."
The bridge's official dedication happened a few months later in June and according to NPS, it was an astounding event…
"Nearly 7,000 people in 1,217 automobiles arrived for the celebration. Speeches were given by the governors of Arizona, New Mexico, and Utah and by the President of the Mormon Church. Bands, choral groups, and Native American dancers were also a part of the festivities. It was reported that airplanes flew under the bridge and as Prohibition was in effect, the bridge was christened with a bottle of ginger ale. The bridge was known as the Grand Canyon Bridge for five years following the dedication. In 1934, after great debate in the Arizona legislature, the official name was changed to Navajo Bridge."
The Navajo Bridge still stands today, but you can't drive across it because now it serves as a pedestrian bridge. However, there is a newer Navajo Bridge that you can drive. It's located just adjacent to the historic bridge, about 150 feet downstream. ADOT built the new bridge to safely handle today's traffic loads.