Transportation decisions driven by traffic counts
Transportation decisions driven by traffic counts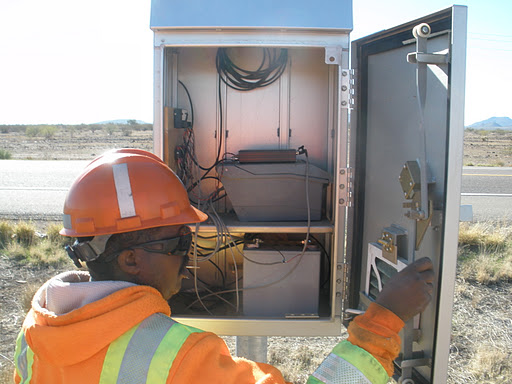 You'd be amazed by how much there is to learn just by counting cars (yes, cars…not cards!)…
Traffic counts are exactly what the name implies – physical counts of the traffic on a particular road – and ADOT takes them at approximately 1,400 locations around Arizona.
These counts not only tell ADOT how many cars are traveling on the state's transportation system, but the sophisticated equipment used also determines vehicle speed, weight and classification.
The result is a continual stream of numbers … lots and lots of numbers!
Numbers that ADOT traffic engineers use to make better, informed choices.
Think about it … it would be nearly impossible to design an effective freeway if you don't know how many people are going to be driving on it. And, you can't design a safe road if you don't know the expected load the pavement's going to have to handle day in and day out.
"This drives decisions," said ADOT's Assistant Director of Roadway Inventory Pradeep Tiwari. "It is a critical prerequisite to decision-making."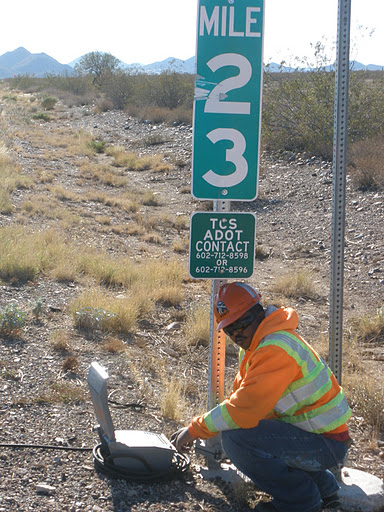 In addition to aiding transportation planning and design, traffic counts are required of each state by the Federal Highway Administration and help determine the apportionment of federal highway and planning funds. They're also a necessary factor in determining air quality measurements.
There's an interest in these numbers outside of government, too. Developers, businesses, property owners, academia and even cell phone companies rely on this information to help make a number of decisions.
In other words, knowing as much as we can about how our roads are being used is pretty important …
"It's like taking our pulse rate," ADOT Planner Mark Catchpole says of traffic counts. "Without taking our pulse, we don't know whether we're well or sick."
Collecting the data
ADOT collects traffic count data at approximately 1,400 locations throughout the state's 6,700-mile highway system.
Of those 1,400 locations, 175 are a continuous traffic counting station, which means they're receiving and sending data 24 hours a day, seven days a week, 365 days a year. The remaining locations take short-term traffic counts (generally 48 hours worth of data).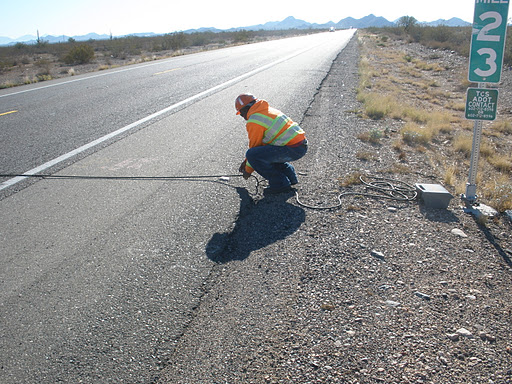 To get an accurate account of the traffic volume in all areas of the system, the information gained through continuous counts is compiled with the short-term figures to determine annual daily averages. This also helps ADOT factor in and make adjustments for seasonal traffic variations to get the best, most accurate idea possible of what's happening out on the roads.
Traffic counters
Chances are you probably won't even realize you're being counted.
The 175 continuous traffic counting stations utilize magnetic induction loops (sensors) that are embedded in the roadway. Those sensors relay information to a nearby station (they look like traffic signal cabinets mounted on poles and powered by a solar cell). The information is interpreted by software and can be read off-site by ADOT employees.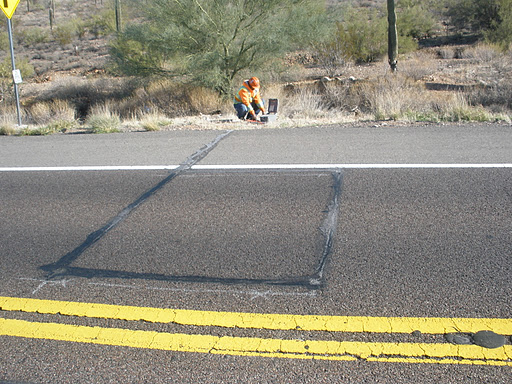 The short-term stations work in a similar way. Some have the embedded loops, while other spots utilize pneumatic road tubes to serve the same function as the loops.
The short-term stations are less visible – crews must either place a battery-operated traffic counter machine in a roadside pull box that is connected to the loop sensors or chain it to a signpost if connected to a road tube.
Reporting the data
All of this data is available to the public online. For more information on traffic counts, visit the ADOT Data and Analysis webpage.