Transportation Defined: Bailey Bridge
Transportation Defined: Bailey Bridge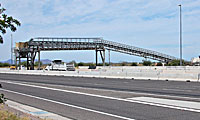 If you've driven recently on the Loop 202 Red Mountain Freeway, you might recognize the structure pictured to the right.
It sits near the Val Vista Drive exit, spanning westbound travel lanes, and while it's not something you might see on every work site, it serves an important function on this project.
Referred to as a Bailey Bridge, which according to the Federal Highway Administration, is a temporary, prefabricated steel bridge that's easy to transport, the structure shown above utilizes a conveyer belt to transport freshly mixed concrete from the batch plant just off the freeway to the median where crews are working to add an HOV lane.
It's sort of brilliant because using the conveyor belt to move concrete over the freeway to the work zone saves countless truck trips. If the structure wasn't there, trucks would have to be loaded up with concrete at the batch plant, get onto the freeway, and cross over several lanes to the work zone in the median.
Now, trucks can be staged within the work area without having to impact traffic – the concrete comes to them!
Transportation Defined is a series of explanatory blog posts designed to define the things you see on your everyday commute. Let us know if there's something you'd like to see explained ... leave a comment here on the blog or over on our Facebook page!