Transportation Defined: CCTV Cameras
Transportation Defined: CCTV Cameras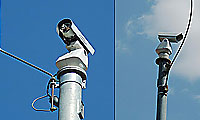 Maybe you've noticed some of the cameras that are perched high above the roadways ...
These are Closed Circuit Television (CCTV) cameras and are used by ADOT's Traffic Operations Center (TOC) to constantly monitor traffic conditions throughout the state.
Most of these cameras can pan, tilt and zoom from any workstation at the TOC, which allows operators to get a closer look at traffic incidents and determine the appropriate response.
Several television stations have access to ADOT's live CCTV camera feeds to show freeway conditions.
The CCTV camera shown, like most, is installed with an important feature ... a lightning protection rod!
Transportation Defined is a series of explanatory blog posts designed to define the things you see on your everyday commute. Let us know if there's something you'd like to see explained ... leave a comment here on the blog or over on our Facebook page!