Transportation Defined: Controller Cabinets
Transportation Defined: Controller Cabinets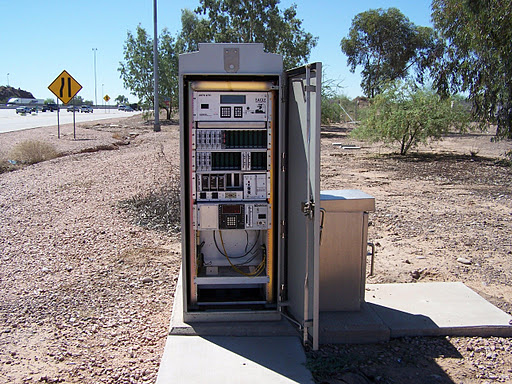 Have you ever spotted something on the highway and wondered, 'what is that and why is it there?'
If you have, the ADOT Blog is here to help you find the answer!
We're going to start periodically sharing short blog posts that identify and define some of the transportation-related objects, equipment and machinery you see out there on the road.
To make these posts easy to recognize, they'll be tagged with a "transportation defined" label. We'll also be linking back to these definitions in our more comprehensive blog posts to help better explain things.
And, of course we'd like to invite you to tell us if there's anything you'd like explained. Let us know what transportation-related objects you're curious about … just leave us a comment here or on our Facebook page!
Controller Cabinets:
Controller cabinets (see photo above) sit along the roadway and send information from things like ramp meters and loops to ADOT's Traffic Operations Center. These cabinets are not air conditioned and all the equipment inside is "field hardened" to withstand Arizona summers.