Transportation Defined: Rustication
Transportation Defined: Rustication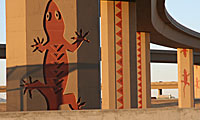 The word for today is rustication. Know what it means?
If you do, you might be thinking it's a word not typically associated with transportation. But rustication actually is something you regularly encounter as a driver on Arizona's highways.
ADOT's Chief Landscape Architect LeRoy Brady gives us the definition…
"Rustication is a repetitive pattern or texture added to a wall, so it's not just a smooth wall," Brady said, adding that the pattern can be as simple as a series of grooves or textures.
As you can see in the photos above and below, ADOT uses rustication on many of the walls, bridges and structures surrounding its freeways.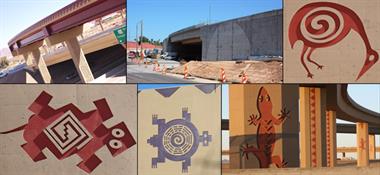 "It provides visual interest," Brady said. "The rustication makes it so that everything's not the same, so it helps create a sense of place also."
The rustication patterns are decided on during the design process, Brady said. Contractors then cast the different patterns into the concrete by using forms during construction.
Besides rustication, ADOT also uses graphic elements or designs – like tortoise, cacti, gecko, mountains, water and wave icons – to also help create that visual interest and sense of place.
Transportation Defined is a series of explanatory blog posts designed to define the things you see on your everyday commute. Let us know if there's something you'd like to see explained ... leave a comment here on the blog or over on our Facebook page!