Transportation is musical: Where mph and mpg meet MP3
Transportation is musical: Where mph and mpg meet MP3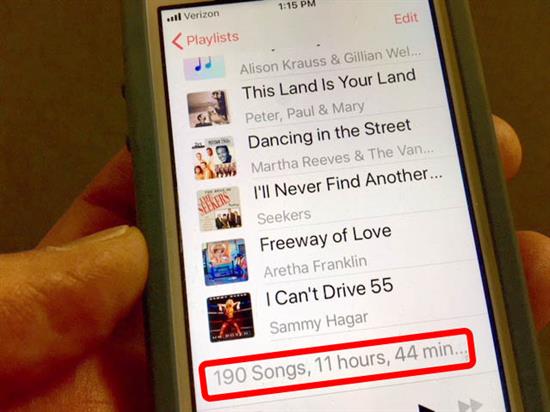 By Steve Elliott / ADOT Communications
I'll be the first to admit there are more productive ways to spend one's leisure time, like organizing the garage or reading a book or – well, pretty much anything.
But given that I work for a transportation agency, I'll argue that it's been perfectly appropriate to spend quite a bit of non-ADOT time lately exploring just how much music in my possession relates to transportation. I've searched my personal phone and made more than a few trips to the virtual music store to assemble a playlist that as of today stands at 190 songs, nearly 12 hours in all, celebrating – or at least mentioning – how we get around. That includes, of course, "I Get Around".
This mania – er, hobby – began when a recent ADOT Blog post mentioned that an Army band back in the 1950s helped inaugurate the Mule Pass Tunnel to and from Bisbee by playing "Highways Are Happyways." I'd never heard this song, which I learned was quite popular in its day. After a little research and a click at the virtual music store, my phone had a polka-infused version by The Western Senators.
The playlist grew from there, first by mining my phone for songs with titles or lyrics featuring highways or freeways (e.g. "In the Highways" by The Peasall Sisters, Tom Petty's "Free Fallin'" and "Freeway of Love" by Aretha Franklin). I discovered that I lacked classics such as Gordon Lightfoot's "Carefree Highway," America's "Ventura Highway" and a certain AC/DC song whose title isn't appropriate for a family blog. Trips to the virtual music store addressed these and other deficits. Cha-ching.
Then came roads, streets, cars, trucks, motorcycles and driving/riding in general. Wilson Pickett's "Mustang Sally" was an obvious choice, as was "Dancing in the Street" by Martha Reeves & The Vandellas. It was fun (fun, fun) finding so many Beach Boys, Bruce Springsteen and Glen Campbell songs in this category. And while Sammy Hagar's aggressive ode to driving made the list, I can and will do the speed limit while enjoying it. So should you.
Many, many other songs came to mind because transportation is multimodal: trains and railroads (e.g. The Monkees' "Last Train to Clarksville"), buses and other public transportation (e.g. Simon & Garfunkel's "America"),planes and air travel (e.g. the Peter, Paul & Mary classic), bicycles (I corrected my lack of a certain song by Queen) – even running, walking and crawling (e.g. "Walking Through Fire" by Mary Chapin Carpenter).
Just the other day I added The Beatles' "Yellow Submarine." If it moves people or cartoon characters, it makes the list. The same goes for metaphorical references to transportation ("Life is a Highway" anyone?). And I hesitated only a second after learning that one can download Dinah Shore singing about her favorite automobile brand and where it can take you: Cha-ching.
And yes, I am dating myself with these references.
So what did this little project yield? First, I can take a road trip to far northern Arizona and back without hearing the same transportation-related song twice. Love that.
More importantly, all of these songs, even the themes from "CHiPs" and "The Love Boat" (I still can't believe those were lurking on my phone), remind me that transportation is essential to individuals and to society. As a result, it's featured in more songs than I'd ever considered. You'll find others on this Spotify playlist.
Transportation is personal – and musical. It's part of our popular culture to the point that my phone has 190 songs and counting connected to ways we get around. Yours no doubt has quite a few as well. That's because we've all got to go where we want to go to do what we want to do.
Hey, another song for the list...