Transportation, travel and tourism featured on ADOT overhead message boards
Transportation, travel and tourism featured on ADOT overhead message boards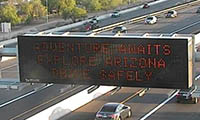 By Caroline Carpenter / ADOT Communications
With Arizona Travel and Tourism Week coming to a close, we hope you've noticed messages on our overhead signs looking toward summer travel and sharing safety tips.
There isn't enough room on the board to carry all of ADOT's trips for making summer road trips safer and easier, so we thought we'd share them here:
Plan your travel route in advance and be sure to notify someone of your route, destination and projected arrival time.
Fill your fuel tank and try to keep it at three-quarters full. Running out of gas, especially in a remote location, is extremely dangerous in extreme heat.
Before you hit the road, visit az511.gov or dial 511 for updated road and weather conditions.
Always carry extra water – enough for the driver, passengers and pets.
Heat can zap your battery. Consider having it tested, especially if it's more than three years old.
Check engine coolant levels and add coolant if necessary. Note: Never remove your vehicle's radiator cap when the engine is hot. It might also be time to have your air conditioning system checked.
Check engine belts and the oil level. A broken belt can lead to an uncomfortable breakdown along the highway.
Traveling with under- or over-inflated tires on hot pavement can lead to a blowout. Make sure your tire pressure is at the vehicle manufacturer's recommended level. Remember to check the spare tire too.
Check your windshield wiper blades and replace them if necessary, so they'll work if you encounter monsoon weather.
Prepare a "to-go" travel pack that includes a cellphone charger, hat, sunscreen, first aid kit, sunglasses, flashlight with extra batteries, snacks and a road map that can provide possible alternate routes.
Travel and tourism is critical to Arizona's economic strength. In 2014, visitor spending generated more than $20 billion, injecting nearly $57 million each day into our economy.
On Twitter, search the hashtag #VisitArizona to find new summer destinations and photos of travelers' favorite spots around Arizona.