Travel tips for football fans driving to Camp Tontozona
Travel tips for football fans driving to Camp Tontozona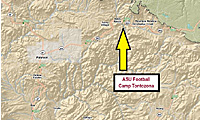 By Caroline Carpenter / ADOT Communications
With temperatures above 100 degrees, it may seem early for football. But in Arizona's high country, about 15 miles east of Payson, Arizona State University football players are getting ready for the upcoming season.
Each year ASU football players and fans head to Camp Tontozona near Kohls Ranch for preseason practice. The busiest day is expected to be on Saturday, Aug. 6, when the final scrimmage takes place.
Working in partnership with ASU, ADOT will allow Camp Tontozona visitors to park along State Route 260 for the Saturday scrimmage and has a few reminders for the thousands of Sun Devil fans expected to attend:
Camp Tontozona visitors will be allowed to park along a closed section of eastbound SR 260.
Parking is very limited in the area. Law enforcement and additional signs will help direct visitors to designated parking areas.
Travelers are encouraged to carpool because of limited parking.
On the day of the scrimmage, all drivers traveling on SR 260 near Camp Tontozona should expect significant traffic and plan accordingly.
ASU has provided additional tips and driving directions for football fans.
This interactive Google map allows you to explore eastbound SR 260 near Camp Tontozona.