'Traveling' is allowed during Final Four: ADOT's freeway tips
'Traveling' is allowed during Final Four: ADOT's freeway tips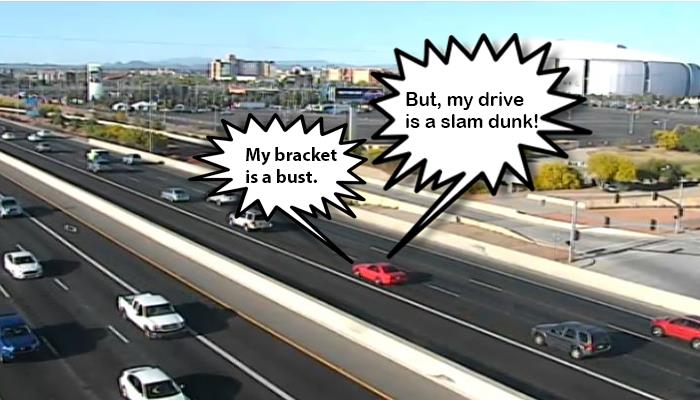 EDITOR'S NOTE: ADOT can only hope to contain this author when it comes to sharing sports clichés. We promise to rebound in future posts.
By Doug Nintzel / ADOT Communications
As thousands of college basketball fans "check in at the scorer's table" in the Valley for the NCAA Final Four weekend, drivers should be prepared for heavier traffic at times on freeways providing connections to and between major event locations. The Arizona Department of Transportation has its own "keys to the game" travel tips for fans and local commuters alike.
Of course, fans will want to "drive the lane" along Interstate 10 in the downtown Phoenix area as one way to access weekend events being held between Friday, March 31, and Monday, April 3. But here are some specific suggestions to consider:
Use the ramps to or from I-10 at Seventh Avenue, rather than Seventh Street.
Consider using I-17 and traveling north on Seventh Avenue to approach the downtown area.
Allow plenty of extra travel time and get to events early.
Why Seventh Avenue instead of Seventh Street? Well, the city of Phoenix is anticipating a "Space Jam" on Seventh Street – especially when the Final Four Fan Fest at the Phoenix Convention Center or the March Madness Concert Series at Hance Park are taking place.
Since westbound I-10 will have heavier traffic this weekend, don't "bust your bracket" trying to make your way "along the baseline" to University of Phoenix Stadium in Glendale, the site of the two national semifinal games on Saturday, April 1, as well as the national championship game at 6 p.m. Monday, April 3. Drivers should plan ahead for heavier traffic on westbound I-10, especially on Monday afternoon and evening.
Westbound Loop 101 across the north Valley is expected to provide valuable help "off the bench" as a good alternate route for fans to use between the East and West Valley regions.
ADOT will "dish out assists" to travelers by "posting" information about traffic conditions and stadium parking on its system of freeway message boards.
To limit "March Madness" when you're looking for "nothing but net," Final Four travel information is just a "free throw" or click away for anyone who "zips a bounce pass" to ADOT's Twitter feed (@ArizonaDOT). Take out your "clipboard" and diagram the following Final Four travel information:
To avoid heavier freeway traffic on Monday, April 3, travelers should consider public transportation options.
It's a "slam dunk" that ADOT will post information about traffic conditions and stadium parking on its system of freeway overhead message boards. The agency's Twitter feed (@ArizonaDOT) and Facebook account (facebook.com/AZDOT) are both excellent sources for traffic-related information. Highway conditions across the state are available via ADOT's Travel Information site at az511.gov or by calling 511.
For real-time information on traffic conditions in Glendale, visit@GlendaleAZPD on Twitter.
"Swish."