Tucson vehicle-repair shop saves steps to improve efficiency
Tucson vehicle-repair shop saves steps to improve efficiency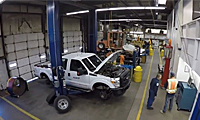 By Caroline Carpenter / ADOT Communications
"The littlest details make a big difference," says Harry Edwards, foreman at the ADOT shop in Tucson that services vehicles.
At the Tucson Equipment Services shop, employees have been identifying ways to save steps – and, in the process, time – as part of ADOT's commitment to continuous improvement. We shared their story in detail this week.
The successes include optimizing the shop's layout by relocating key machines, creating a tracking system for specialized tools and better organizing nuts and bolts. All of it reduces the time required to complete tasks, freeing employees up to perform additional repairs.
The video above has the sights and sounds of continuous improvement in action at the Tucson facility – and what employees think of the changes.