Unwrap Arizona Highways Magazine from December 1978
Unwrap Arizona Highways Magazine from December 1978
By John LaBarbera / ADOT Communications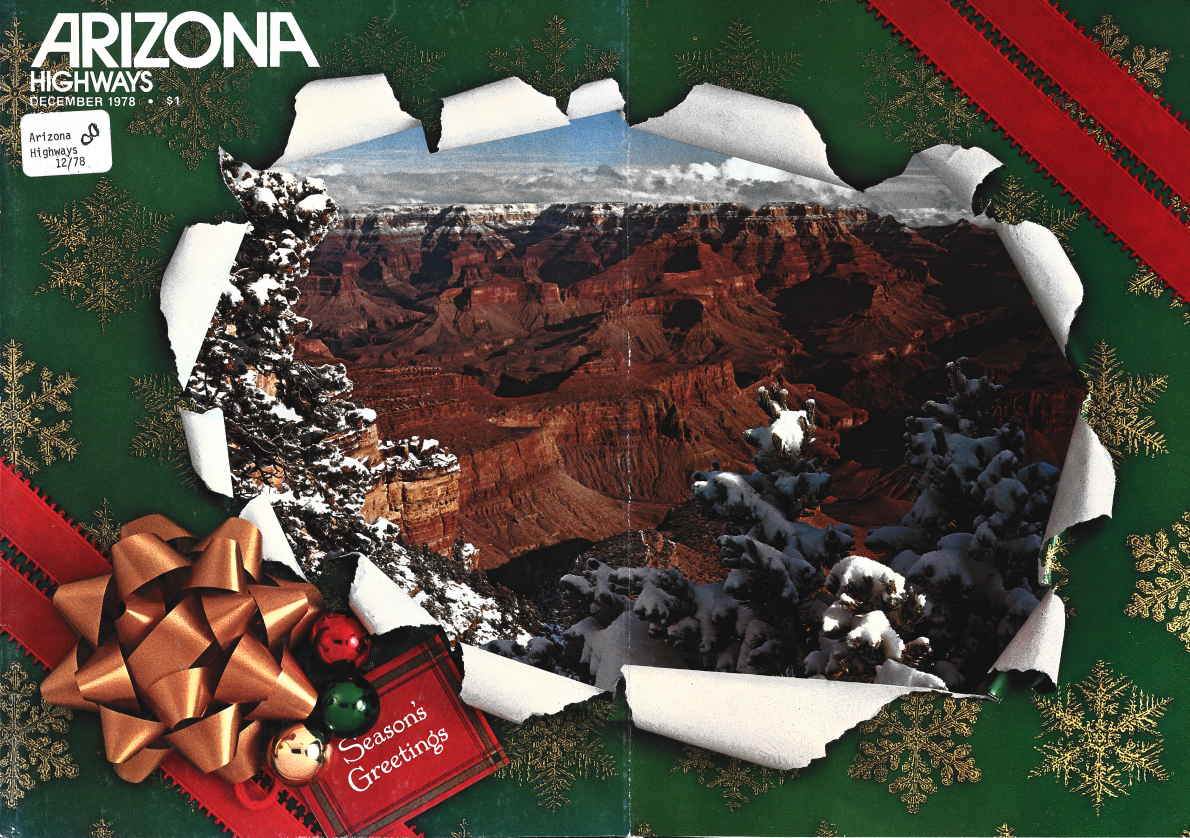 Arizona Highways magazine has been delighting readers in the state (and around the world!) for more than 99 years, in some shape or form.
Every issue is chock full of gorgeous pictures and wonderful pieces of writing that really capture the zeitgeist of our state.  So you can imagine how delighted we were to stumble across the season's greetings issue from December 1978. And the timing just couldn't be better!
This installment stands out from the very first page. While a seemingly normal cover at first glance, it pulls out to reveal a spectacular shot of the Grand Canyon in all its wintry glory. Photographer Josef Muench captured this fantastic shot of the natural wonder of the world, with snow-dusted pine trees glistening in the foreground.
The theme of this issue is "A Symphony in Four Movements." Stunning images of Arizona's diverse ecological landscape across all four seasons are accompanied by a lovely poem about each weather interval. Spring speaks of "awakening and rebirth;" summer "rides on a chariot of fire;" autumn proclaims "(t)he seeds entrusted to Mother Earth have been watched, watered and weeded;" and finally winter declares itself "the birthday of the sun which led people from darkness."
And since winter is where we find ourselves these days, let's take a look at some of the snowy scenery included in this issue:
A Joshua Tree finds itself in unfamiliar territory as the Mojave Desert receives a rare snowfall. Photograph by Pete Essick.
A flock of sheep and their shepherd navigate the snow-blanketed terrain of Monument Valley. Photograph by Bob Bradshaw.
The snow-capped San Francisco Peaks bask in the background among the glorious Ponderosa Pines. Photograph by Peter Bloomer.
And finally down below, a familiar site perhaps, to the desert dwellers of our fair state: A saguaro cactus decked out in holiday lights stands majestically at a resort in Scottsdale. Photograph by Dick Dietrich.
Overall this edition provides a fun trip back in time, but also reminds us of the charm and grace that have always resided right here in our exquisite State 48. 
The Arizona Highways December 1978 issue: On newsstands everywhere … 42 years ago.