Veterans program helps MVD reach former military members
Veterans program helps MVD reach former military members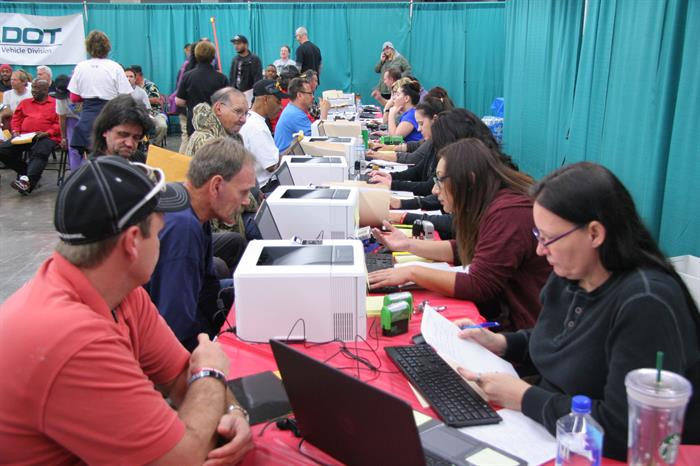 By Doug Nick / ADOT Communications
Every few months, state agencies get together for a unique event that does something for a very important part of our society: veterans.
It's almost impossible to overstate the value of our nation's vets. They defend our freedom and simply don't get enough thanks.
That's one reason the periodic Veterans Stand Down is so valuable. It's a place where services are provided, questions are answered, and problems get solved.
Just a few weeks ago, a number of MVD staff spent hours at the 2017 Maricopa County Veteran Stand Down with veterans who needed assistance getting on the road.
Here's what some of our MVD team had to say about this great opportunity.
"It is a blessing to know that ADOT and MVD Customer Service can help these homeless veterans. We can help, not only with the driver license, but to get their life back. To me, that's the main reward," said MVD Customer Service Office Manager Jon Jenkins, who is retired from the U.S. Air Force – a fact that adds extra significance when working at the event. "I am able to communicate with them and share stories."
Trenise Miller, a customer service representative in the Apache Junction MVD office, said she too appreciates that the StandDown offers up a unique chance for ADOT employees to talk and listen to veterans.
"ADOT being here is a big thing. A lot of people don't have IDs," she said. "I enjoy being able to hear their stories."
Besides licenses and IDs, MVD was able to offer food and snacks. MVD employees raised money so they could provide hundreds of sandwiches, muffins and bottles of water.
"Everyone did fundraisers in their office or donated some money," MVD Western Region Manager Kyle Ulibarri said.
Morgan Henling, an MVD office supervisor in the Scottsdale MVD office, said being able to participate is a humbling experience.
"Without an ID, they can't get a job or any other benefits they're eligible for," Henling said. "They've served our country, the least we can do is help them out."