Video: Severed fence leads to rescue of driver stranded for days
Video: Severed fence leads to rescue of driver stranded for days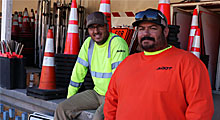 By David Rookhuyzen / ADOT Communications
It started with a loose bull and ended with a rescue.
Last month, a routine call about a fallen fence led two of our employees to notice a car that had gone off US60 and down an embankment near Wickenburg.
This video shares how Zachary Moralez and Joshua Miller, joined by Department of Public Safety Trooper Caleb Hiegel, were in the right place at the right time to help a woman stranded for days along the Hassayampa River.