VIDEO: State balladeer croons nostalgic over 'I-10 Highway'
VIDEO: State balladeer croons nostalgic over 'I-10 Highway'
By Laurie Merrill / ADOT Communications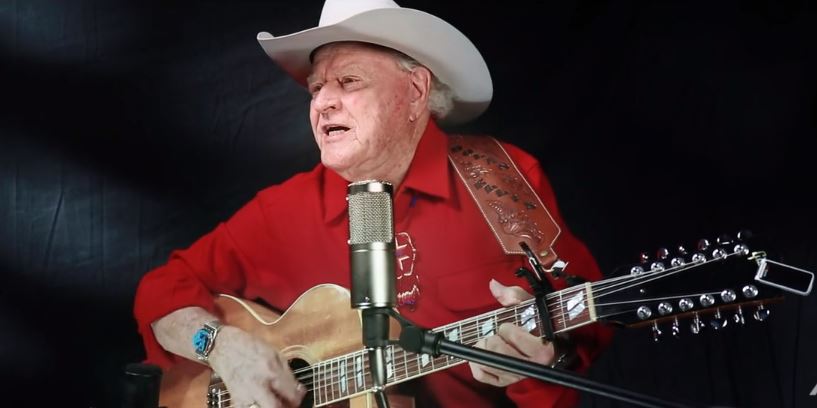 "Historians write the history, but balladeers bring it to life."
So says Dolan Ellis, Arizona's official state balladeer, who has spent more than 60 years bringing Arizona to life through song.
Ellis performed a few numbers and answered questions about his musical career during a visit late last year to ADOT, including a tribute we've already shared to the I-17 Mystery Tree, which he calls "Scrubby." At right is a video with another of his songs, "I-10 Highway," which Ellis wrote in the 1970s.
"The road between Tucson and Phoenix, it was paved, but it was very, very narrow, and it went through all these little towns like Chandler, which was a tiny white spot on the road, and Coolidge, and all these places," Ellis says as he sets up the song, which includes these verses:
"Arizona I-10 Highway, there's a trucker going my way, play a tune in the afternoon with a guitar that I carry on my back."
"I can see the sign to Tucson, from the freeway that I ride on, telling me all the sights to see down in Tucson, that are long gone with each puff from a diesel stack."
"As I pass the irrigation roads (and) crops some Pima farmer grows, folks flipping by like the pages of a worn-out history book.
And the story that it seems to tell the pride of his work in a job done well and the cooperation of a reservation full of neighbors and the labors of his people (that it took)."  
There's also a verse about Picacho Peak and its history as the site of an 1862 clash between Union and Confederate forces that was the westermost battle of the Civil War.
Ellis isn't an Arizona native but a transplant from Kansas, where he grew up on a small farm south of Lawrence. He became determined to make Arizona his home when at the age of 6 he saw pictures in National Geographic magazine.
"I was fascinated about the plants, cowboys, Indians and mining," he said.
He made his Arizona dream come true in 1959 after graduating from college, driving across the state line with his wife by his side.
His first job was in communications at KOOL-TV, which is now KSAZ-TV. He brought his guitar, and during down time, like right after news broadcasts, he would sing and play in the empty Studio B.
His hard work and talent led to coffee house gigs around and beyond Arizona, and he became an original member of the New Christy Minstrels, the legendary folk group.
In 1966, Ellis became Arizona's first official state balladeer, a designation proffered by Governor Sam Goddard.
You can learn more about Ellis, his performance schedule, history and songs at DolanEllis.com. You can also learn about the Arizona Folklore Preserve in Ramsey Canyon in the Huachuca Mountains, which Ellis founded to preserve songs celebrating Arizona's western heritage and culture, at ArizonaFolklore.com.