We now go live to ADOT...
We now go live to ADOT...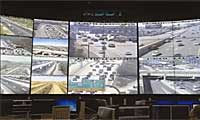 By Caroline Carpenter / ADOT Communications
At ADOT, we're always looking for ways better ways to communicate information about traffic restrictions, construction projects and transportation.
We already offer a variety of ways to receive news from ADOT. If you like to get updates by email, you can have emails delivered to your inbox. Those who don't use the internet often prefer to call the 511 line, which offers the latest information on road closures and lane restrictions.
These days, many people head to social media for their news.
Twitter is one our most popular social media networks. Many like the interactive platform and receiving an immediate response.
---
@ArizonaDOT I appreciate you! Always, always quick to reply and dependable!!

— Adrea France (@adreafrance) May 31, 2016
---
Video is growing in popularity. Many ADOT Blog readers have seen our YouTube videos and subscribed to our YouTube channel. They may follow our Flickr account.
Now we're trying to take our interaction to the next level. Recently, we've been going live on Facebook to share information on major road closures. These live videos will give you the information you need, when you need it. You can ask questions during or after the live feed.
Please let us know by Facebook, Twitter or ADOT's contact page if you like live videos and where else you'd like to see ADOT go live.