Westbound I-10 east of Tucson to close overnight Nov. 17
Westbound I-10 east of Tucson to close overnight Nov. 17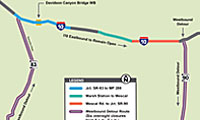 If you have travel plans next Tuesday night/Wednesday morning that involve westbound Interstate 10 between Tucson and Benson, you'll want to pay close attention…
A bridge replacement project is going to require the closure of all westbound lanes from 9 p.m. Tuesday, Nov. 17 to 5 a.m. Wednesday, Nov. 18, which means drivers headed in that direction will face a 67-mile detour that'll add up to two additional hours of travel time to their trip. If possible, travelers should consider avoiding the stretch.
Eastbound I-10 will remain open.
This is the first of six planned closures to allow crews to replace the bridge at Davidson Canyon, between State Route 83 east of Tucson (Exit 281) and State Route 90 west of Benson (Exit 302). The six full westbound closures are needed to allow crews to set girders and pour new bridge decks. The project is replacing a bridge built in 1961 near milepost 285.
The bridge replacement is part of the I-10 Quad Project, a combination of four separate transportation improvement projects that includes removing and replacing pavement in three segments of I-10 and replacing the westbound I-10 bridge through Davidson Canyon, located approximately 20 miles east of downtown Tucson.
What drivers should expect
Detour signs will guide westbound I-10 motorists south on SR 90 (Exit 302), west on SR 82 to Sonoita and north on SR 83 to reconnect with I-10 at Exit 281 (see map above). ADOT will provide advance notice of subsequent closures, which will all be overnight and will not affect weekend or holiday travel.
Drivers are advised to proceed through the work zone with caution, slow down and be alert for construction equipment and personnel.