What goes into a highway? A bridge? Ask a materials engineer
What goes into a highway? A bridge? Ask a materials engineer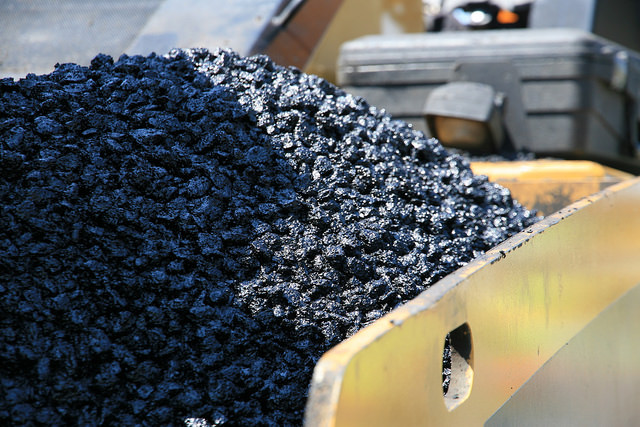 EDITOR'S NOTE: During National Engineers Week, which calls attention to the importance of engineering and career opportunities in engineering, blog posts are featuring different aspects of engineering at ADOT.
By Steve Elliott / ADOT Communications
To explain her role as an ADOT materials engineer, Julie Kliewer suggests thinking about the parts and pieces that go into anything.
"Your house, the sidewalk, the road you drive on every day – it's all engineered, and it's all made up of materials," she says.
As ADOT's State Construction and Materials Engineer, Kliewer leads a group whose duties include ensuring that quality materials go into roadways, bridges and other parts of Arizona's highway system. The materials laboratories she directs evaluate everything from the rocks (also known as aggregate) used in asphaltic concrete to the reflective beads used in paints that stripe roadways to the bolts that help hold bridges together to the metal in sign posts.
The photo at right shows a Universal Hydraulic Testing Machine, which the Structural Materials Team uses to evaluate rebar.
While some ADOT engineers focus on design, others on construction and others on maintenance, materials engineers are involved in each of those phases, Kliewer notes.
In the design phase for a new highway, for example, that includes understanding the makeup of the earth beneath the roadway and the pavement that should be put on top of it. During construction, materials engineers make sure the mix of raw materials used in pavement is designed and delivered properly for that area's conditions, including the temperatures. Later, materials engineers test how the pavement is performing and make sure materials used to maintain it meet specifications.
Kliewer, shown in the photo at top leading aspiring engineers on a project tour, has a Ph.D. from Oregon State University in civil engineering with a specialty in materials, along with minors in geotechnical engineering and numerical methods. The title of her dissertation explains why she's often referred to around ADOT as having a "Ph.D. in pavement": Development of Performance-based Test Procedures for Asphalt Mixtures.
While working with pavement is just one of the duties handled by ADOT materials engineers, it's among the most visible to the public, as ADOT's main asset is the thousands of miles of road surface in the state highway system.
If you want a challenge as an engineer with an interest in materials and pavement, try working in a state with many highways exposed to relentless heat and sun and others at high altitudes seeing dozens of freezes and thaws throughout the winter, along with snow and snowplowing.
For materials engineers dealing with pavement, one challenge is writing specifications that get the right pavement mix and good quality for a given area.
"It's not a matter of just throwing some aggregate and asphalt together," she says. "It's a balancing act."
In asphaltic concrete, asphalt holds together the aggregate that supports the load. One of the things materials engineers look for in a mix is voids, or airspace. If there are too many voids, the pavement won't last as long as it should. If there aren't enough voids, it won't be as stable as it could be. The photo at right shows a Hamburg Wheel Tracker, which ADOT's Pavement Materials Testing group uses it to evaluate asphalt mixes.
In addition to designing the best pavement mix for a given location, ADOT materials engineers test how the road surface will oxidize and growing stiffer over time. That stiffening, accentuated by Arizona's dry climate and abundant sunshine, contributes to cracks that are addressed with substances evaluated by ADOT's materials engineers.
Kliewer's path to materials engineering began in high school, when she couldn't decide whether to be an engineer or a forester. She was able to do both at Oregon State University, earning bachelor's degrees in forest engineering and civil engineering but finding that materials classes struck her fancy.
"It just fit me," she says.
After two years with the Oregon Department of Transportation, working mostly in materials research, she returned to Oregon State University to teach surveying and geotechnical engineering in the College of Forestry. While teaching, she earned a master's in forest engineering and her doctorate in civil engineering.
The reward of materials engineering, Kliewer says, is figuring out how things fit together, whether it's in pavement, bridge girders, concrete culverts or anything else making up the highway system.
"If you like solving those kinds of puzzles, it's a really rewarding career," she says.