For what's happening under highways, turn to geotechnical engineers
For what's happening under highways, turn to geotechnical engineers
By Garin Groff / ADOT Communications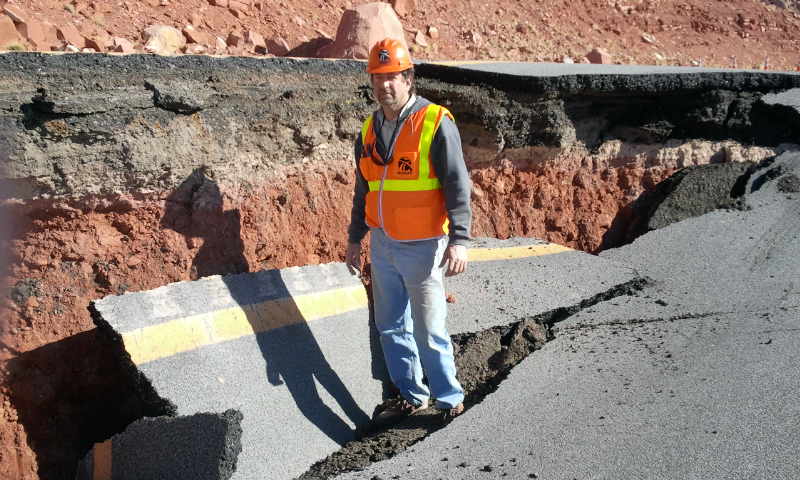 When ADOT constructs a new road or bridge, you can thank somebody like Patrice Brun for being one of the first engineers to turn over the soil or move the rock.
But Brun isn't putting down asphalt or building bridge piers. As a geotechnical engineer, his job is to understand the makeup of the earth beneath a future project. With that knowledge, other engineers can then determine the best type of pavement for that location, what efforts are needed to stabilize a slope or how to ensure a bridge will stand up to the forces of Mother Nature.
Brun's work is critical for projects that will serve motorists for decades to come, yet the work is virtually invisible to the public.
"Probably 9 out of 10 times when people ask me what I do for a living, I get a blank stare when I say geotechnical engineer and then have to explain what I do: I play with rocks and dirt and then tell you what to do with them," he said.
Brun, who holds a degree in mineral engineering, oversees eight other employees in ADOT's geotechnical unit. It includes three licensed civil engineers, a registered geologist and a field crew of two who operate a backhoe and coring machine. There is no degree specific to geotechnical engineers, with members of the profession having degrees in civil/geological/mineral engineering or geology.
Much of the work centers around geology, as engineers need to account for soil or rock type, stability, moisture and strength. ADOT's own soil and aggregate lab analyzes multiple samples from work sites early in the process of projects and often as the work continues.
There's more to the group's work than planning future projects. Employees frequently monitor or respond to situations in which highways cut into all kinds of geological features, including steep and geologically active formations. Sudden forensic issues throughout the state have the geotechnical engineer quickly putting on his or her detective hat and seeking solutions for remediation.
Their most high-profile work in recent years involved the 2013 landslide that ripped apart a 500-foot section of US 89 in northern Arizona between Page and Bitter Springs. Extensive geotechnical and geological work was required to determine what was occurring underground so engineers could decide how to safely rebuild the road. The highway reopened after two years, following a $25 million reconstruction project.
The group also surveys for potential rockfall, which could result in working with maintenance crews to remove a single rock or something as vast as recommending larger mitigation projects. ADOT monitors approximately 1,200 locations for geological movement along highways, which involves installing monitoring devices on roadside slopes that can be steep and rocky and difficult to access.
"The No. 1 thing about being a successful geotechnical engineer is you cannot be afraid of heights, because you do a lot of climbing," Brun said.
And sometimes the work reveals historical surprises. Brun recalls when a pedestrian reported a sinkhole on the shoulder of State Route 80 near the mining community of Bisbee. The geotechnical unit discovered a 4-foot wide sinkhole that exposed an historic mine shaft that a mining historian figured was from a 1880s-era mine that had been covered over decades ago. An ADOT crew with cooperation from the local mine filled in the hole quickly so it wouldn't damage the highway or become a hazard to the public.
Brun said a geotechnical engineer's job is to find potential problems and design solutions at the start of a project so they don't have to return later for potentially disruptive repairs.
"Our best work you won't see," he said.
---
EDITOR'S NOTE: During National Engineers Week, which calls attention to the importance of engineering and career opportunities in engineering, blog posts are featuring different aspects of engineering at ADOT.