When a powerful snowstorm hits, safest choice is waiting it out
When a powerful snowstorm hits, safest choice is waiting it out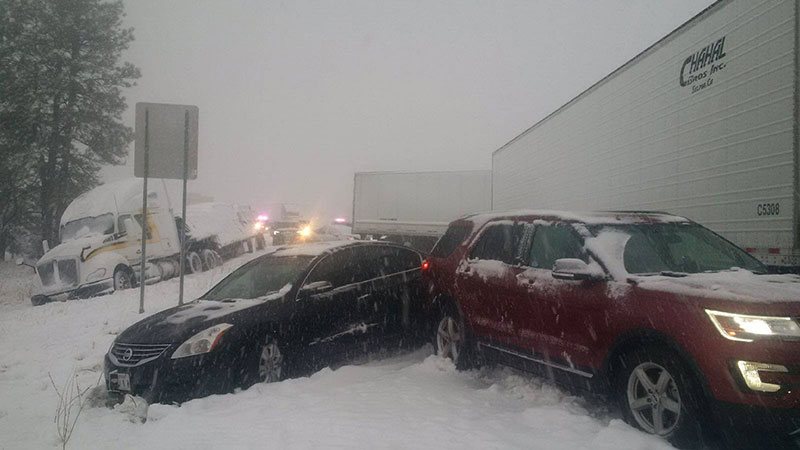 By Steve Elliott / ADOT Communications
Arizona highways look inviting when there's a plowed strip of pavement amid a blanket of snow (see the video above). ADOT has a fleet of nearly 200 snowplows and 400 certified snowplow drivers stationed around the state to get them that way.
But as Christmas weekend showed, especially on Interstate 40 from Flagstaff west to Ash Fork and on Interstate 17 south of Flagstaff, a snowstorm can be so intense that travel becomes unsafe quickly. This is why we urge drivers to monitor conditions before they leave and be prepared to delay travel until our plows can do their work. A few inches of snow fell per hour at the height of this storm, causing many vehicles to slide off and resulting in long closures (the photo at upper right is from I-40) because of the time required to get vehicles cleared and lanes open again.
Because snowstorms can result in sudden closures sometimes lasting for hours, we offer tips at azdot.gov/KnowSnow that include packing an emergency kit with blankets, warm clothing, snacks and water, having a charged cellphone and keeping your gas tank half to three-quarters full at all times. But the safest option when significant snow is in the forecast is not being on road unless it's absolutely necessary.
In addition to watching National Weather Service forecasts for the area where you're planning to travel, be sure to check az511.gov or call 511 for the latest road conditions. ADOT's Twitter account (@ArizonaDOT) is a good source of information and interaction.
With another storm forecast for New Year's weekend, we hope recent experience reinforces the value of waiting out a big storm until roads are plowed and ready for traffic. If there's any question about whether it's safe to go, you'd probably do well not to.