Where botany meets aesthetics: New freeway interchange landscaping
Where botany meets aesthetics: New freeway interchange landscaping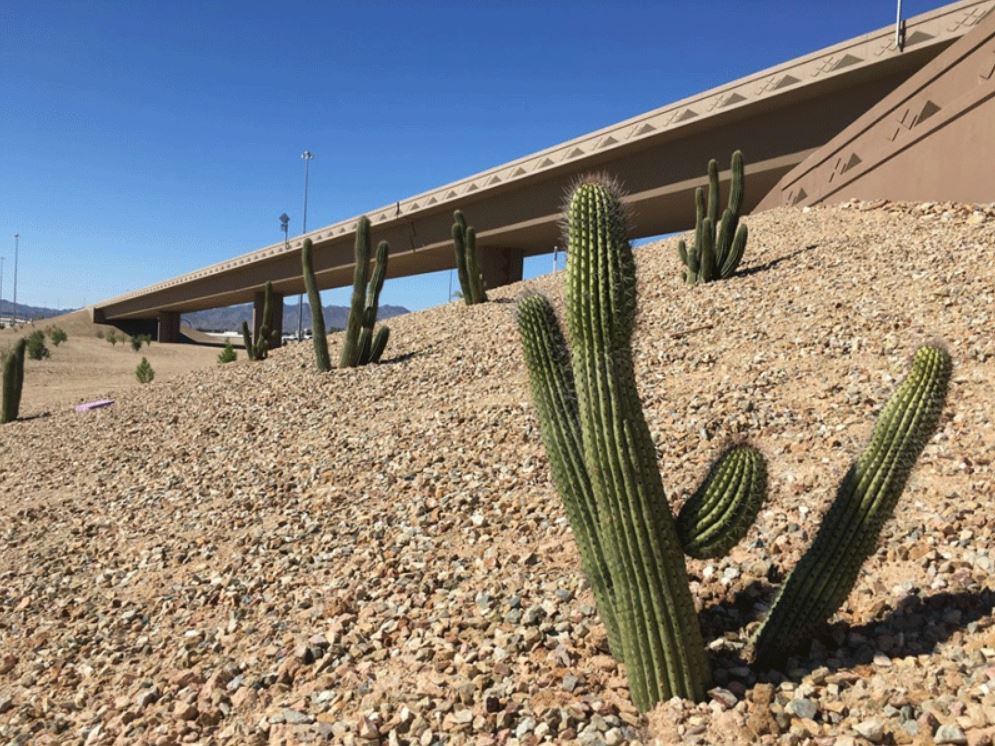 By David Rookhuyzen / ADOT Communications
How do you know when a Valley freeway project is complete? It often can be as simple as looking for the saguaros.
That's just what motorists around the Loop 303 and Interstate 10 interchange in the West Valley see these days. Crews have finished planting more than 150 saguaros, along with 2,500 other desert plants, on the 125 acres around where the two freeways meet.
In addition to saguaros, sharp-eyed drivers and passengers will also see organ pipe and toothpick cactuses, desert willows, ironwoods, mesquite, Arizona yellow bells and jojoba shrubs. And that doesn't get into the 600,000 square yards of gold-highlighted crushed granite gravel ground cover. The new look blends with the northern half of the interchange, which had similar landscaping installed in 2016.
Other aesthetic touches include a triangle pattern representing nearby mountain ranges, including one set along an elevated ramp that blends with a distant skyline and the White Tank Mountains. Drivers at the Van Buren Street interchange will also notice graphics depicting cotton boles and farm fields to represent Goodyear's agricultural history.
These flourishes follow a $64 million project that completed all the ramp connections between the two freeways and extended Loop 303 to Van Buren.
The funds for the $3.8 million cost of finishing the landscaping fall under the Maricopa Association of Governments' 20-year Regional Transportation Plan, which was approved by voters in 2004.