Work continues on US 89 landslide site
Work continues on US 89 landslide site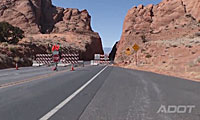 Yesterday marked one month since a landslide ripped through a segment of US 89 and buckled more than 150 feet of the pavement…
That geological event not only triggered an immediate closure of a 23-mile stretch of the highway, it also brought out a whole team of engineers and geotechnical experts to the scene.
And, while there still is no timeline for restoring the route, we can assure you that crews are working diligently at the site, inspecting the damage and examining the causes behind the slope failure – all of which you can see in the video above.
What's been happening at the site?
Besides the geotechnical stuff – which we'll get to in a minute – some of the work since Feb. 20 has included getting word out to drivers.
Flagstaff District Project Supervisor Rick Schilke explains that temporary traffic control was in place at first, but since then, crews have put in semi-permanent signs that mark the detours.
"About every 10 miles there's another sign that says 'keep going,'" Schilke said.
Earlier this month, the team also had to prepare for a storm that was forecasted to bring rain and snow to the region. You can see in the video that precautions included putting down a thick plastic liner to protect the site from water infiltration.
"We have crevices in the earth over 30 feet deep and the desire is to not have moisture in those areas because when the moisture gets into the earth, it gives it a higher chance of sliding even further," says Flagstaff District Engineer Audra Merrick.
Now, onto the geotechnical side of things…
Core drills are being used so engineers can detect any shears that are developed underground and get a better idea of what some of the future options are.
And, we can't forget the inclinometers – faithful ADOT Blog readers will already know about these. You can see in the video that these instruments are being used at the site so engineers can see what's happening deep below the road's surface.
"It can give us readings several hundred feet down," says Kelinfelder Geotechnical Engineer Jed Stoken. "In this case we're trying to go down about 150 feet. We think that the shears in the bedrock are probably at least 100 to 125 feet. It's a very deep slide."
What's next?
As we said above, no timeline has been established and crews are still working to determine what the best long-term solution might be.
"There was some sort of geological event that occurred, obviously, up here and so we just can't come up here and replace the road for the sake of replacing it," Merrick says. "We need to determine what the cause was in order to best use our funds to reestablish the route."