Work on Loop 101 widening project continues
Work on Loop 101 widening project continues
It's been a while since we last checked in on the Loop 101 widening project, so we thought we'd take a look and see how work is progressing…
You might remember that construction began in early August 2014 and is expected to wrap up in late 2016. When work is complete, Loop 101 will be widened from Shea Boulevard to the Loop 202 (Red Mountain Freeway) interchange. In addition to the new travel lanes (one in each direction) from Shea Boulevard to McKellips Road, the project also includes:
Two additional travel lanes from the northbound Loop 101/Loop 202 interchange entrance ramp to McDowell Road
Traffic-interchange improvements
New rubberized asphalt on the roadway surface from Shea Boulevard to McKellips Road
Right now, the project is roughly 42 percent complete and crews are really taking advantage of the summer months – when there's less traffic and fewer big events – to get a lot of work done.
Northeast Valley drivers have likely noticed a few ramp closures within the project's span.
ADOT Transportation Engineering Specialist David Locher explains that those closures are necessary so that crews can move/relocate the ramps outward so they'll be able to align with the new expanded freeway exit/entrance lanes. Locher says the goal is to have all the ramps finished by January.
Currently, 60-day ramp closures are in place at McDowell (closure began June 1), Indian School (June 22) and Indian Bend (July 13). Drivers should also prepare for an upcoming 60-day closure at the 90th Street/Via Linda on- and off-ramps that will begin Aug. 10.
The project also includes 11 bridges…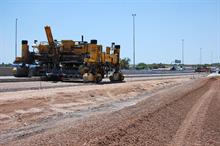 Crews have completed most of the bridge work, says Locher, but they still have to wrap up construction on the bridge approaches. Speaking of bridges, if you haven't already seen it, you might want to check out this video from back in March that shows how (and why) crews lowered a new lane on the bridge at 90th Street.
As you can see from the aerial photos above, crews are continuing day and night to expand the freeway lanes along the length of the project.
"ADOT is working hard to ensure drivers won't have to wait long to experience a less congested and quieter ride," ADOT Senior Community Relations Officer Felicia Beltran said.
For more information (including traffic alerts), please our previous posts or check out the project's progress on our Flickr Page.