Work starts on Loop 303/I-10 interchange
Work starts on Loop 303/I-10 interchange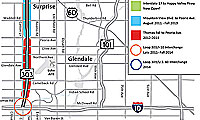 If you've been following our Building a Freeway series, you should be pretty familiar by now with much of the work that's happening out on the Loop 303.
But we still have a lot to show you! In fact, there's a significant part of the project we haven't even touched on yet...
It's the Loop 303/I-10 interchange and construction is just getting started.
When the project is complete in 2014, drivers can expect many improvements; including a freeway-to-freeway connection between Loop 303 and I-10 (it will look similar to the Loop 101/I-10 interchange in Tolleson and Avondale for those of you familiar with the West Valley).
Right now we're in the first of four phases and a lot of the preliminary work being done is designed to help ease the commute for drivers once construction begins on the later phases. For example, new ramp interchanges will be built at Sarival Avenue and Citrus Road. Work on those starts in March, but should be finished this summer and the new interchanges will help motorists maneuver around more upcoming construction.
As the project progresses there are a few important sites you'll want to check in on regularly …
And, of course, stay tuned to the blog. We'll continue to share important project information along with explanatory videos and blog posts!