You can help the Fourth Street Bridge project in Flagstaff win a national award
You can help the Fourth Street Bridge project in Flagstaff win a national award
By Ryan Harding / ADOT Communications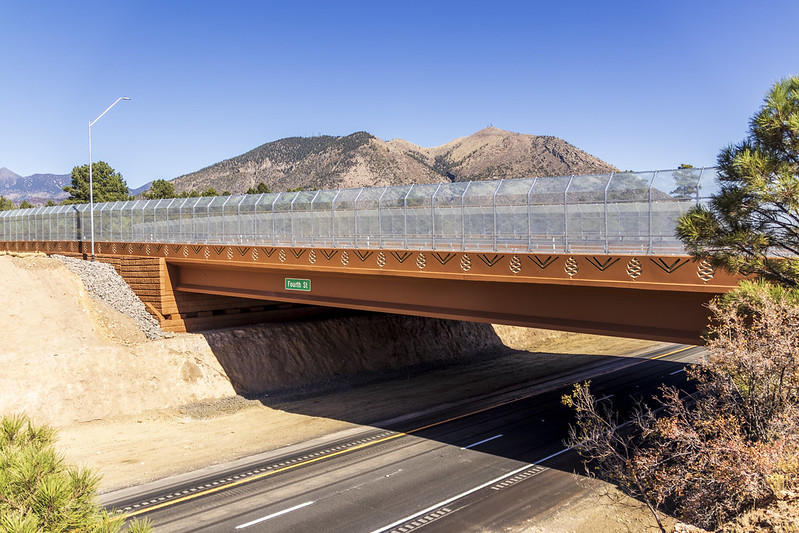 We are so excited to announce that for the second year in a row, an ADOT project is in line for a national award from America's Transportation Awards! In the transportation industry, this is a BIG deal! 
The Fourth Street Bridge replacement project in Flagstaff, which won a regional award in the 2021 America's Transportation Awards competition, has made it to the Top 12 finalists to compete for one of two national awards - the Grand Prize and the People's Choice Award.
While the Grand Prize is decided by an independent panel of industry experts, the People's Choice Award is decided by the general public through online voting. Last year, when the Loop 202 South Mountain Freeway made the Top 12, we asked a big, but simple favor from you to go online and vote daily for that project. 
We're asking the same favor from you this year! Go online and vote for the Fourth Street Bridge project each day from now until Oct. 25! Every vote counts!
Need some reasons why you should cast your vote for the Fourth Street Bridge project? Happy to oblige:
The Fourth Street Bridge has improved community connectivity in Flagstaff by adding more lanes for vehicles to use and a protected path for pedestrians and cyclists!
The new bridge helps make it easier for students at nearby Northland Preparatory Academy to get to-and-from school.
The bridge also connected the Flagstaff Urban Trail System across Interstate 40, allowing trail hikers to continue along uninterrupted.
The bridge was replaced using the "bridge slide" method, in which crews slide the new bridge into place of the old one using hydraulic jacks. This method cut an estimated two months off of construction time and saved nearly $7 million.
Anyone, anywhere can vote. If you're a Flagstaff resident who has benefited from the new Fourth Street Bridge, now is the time to show your support through voting! Follow this direct link to vote not just once, but every day, for the Fourth Street Bridge through Oct. 25.
As an added bonus, the winning project gets a $10,000 cash prize donated to the charity of the state DOT's choice. So voting not only gives this well-deserving project national kudos, but it will help benefit a local charity as well!
So do us a solid and set a reminder on your smartphone to vote daily for the Fourth Street Bridge project and give Arizona a chance to shine in the transportation world!