You can't see us yet, but we're working on new phase of Ajo Way improvements
You can't see us yet, but we're working on new phase of Ajo Way improvements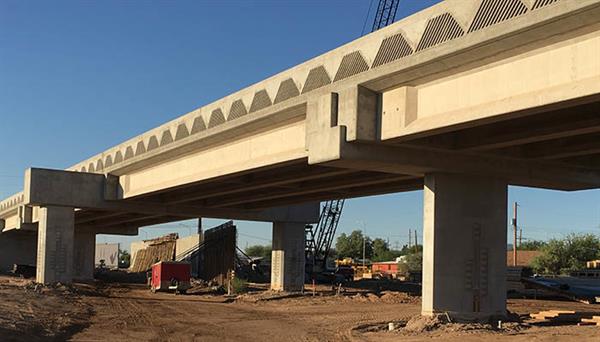 By Tom Herrmann / ADOT Communications
You know what they say about icebergs. There's much more to them than meets the eye.
Although an iceberg would be nice in this heat, no one expects one on Ajo Way (State Route 86) in Tucson anytime soon. But there is much more going on than most people will see as crews from ADOT and our contractor, FNF Construction, begin work on the second half of the I-19/Ajo Way traffic interchange project.
For the next few weeks we'll be putting things in place to begin what will be an 18-month project. We'll be positioning traffic control, creating a work area for the construction team and doing other things our engineers find exciting.
Over the next few weeks we'll be making adjustments to utility lines in the area, and you'll see some minor impacts on traffic.
Down the road we'll be rebuilding the Ajo Way bridge over the Santa Cruz River – we'll do half of the bridge at a time to avoid closing it – and replacing the pedestrian bridge over Interstate 19. We'll also be building a new exit ramp from southbound I-19 to Irvington Road. It's a braided ramp – one ramp will fly over the other – that will allow drivers to enter and exit the freeway without having to maneuver around each other. We started work on the braided ramp during phase one of the project, and you can see the result atop this post.
We'll stay out of your way as much as we can. Just know that even if you can't see anyone in a hard hat, we're there, someplace, working to make a better roadway.