Your opinion: SR 89A through Oak Creek Canyon rules Arizona's scenic drives
Your opinion: SR 89A through Oak Creek Canyon rules Arizona's scenic drives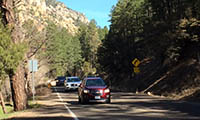 By Peter Corbett / ADOT Communications
Arizona travelers are captivated by Oak Creek Canyon, with its greenery, flowing water and red rock views.
In a series of informal polls posted recently by ADOT's Twitter account, @ArizonaDOT, participants selected the 16 miles of State Route 89A running north from Sedona as the state's best scenic drive. US 163 through Monument Valley was the runner-up, followed by SR 89A's twisting run over Mingus Mountain from Jerome to Prescott Valley. Then came SR 89 from Prescott to Congress.
The four preliminary polls (see below) and the final poll (shown above), posted Sunday through Tuesday, drew nearly 2,000 votes. Winners of the initial polls advanced to the final.
There's certainly nothing scientific about this polling, but it was a decisive win for SR 89A through Oak Creek Canyon, a magnet for hikers, swimmers and sightseers, especially on weekends and holidays.
Second-place US 163 through Monument Valley near Kayenta is a far more remote scenic drive that's lightly traveled. The towering buttes of Monument Valley have a cinematic history that includes John Ford's "Stagecoach" in 1939, "Forrest Gump" in 1994 and "Transformers: The Age of Extinction" in 2014.
Other scenic routes that scored well but didn't advance to the final included:
US 60 through Salt River Canyon north of Globe.
US 89A from Lees Ferry to Fredonia.
SR 64 from Grand Canyon to Cameron.
SR 88 the Apache Trail from Apache Junction to Roosevelt Lake.
We use ADOT's Twitter account, which has nearly 180,000 followers, to keep motorists current on road conditions, closures and highway news. Like ADOT's Facebook page, it's also a good way for you to get questions answered on traffic conditions and more.
We hope participants enjoyed us turning the tables and putting questions to them via social media. We enjoyed it too and plan to offer more polls in the near future.
Preliminary round results