Yuma's 'bridge to nowhere'
Yuma's 'bridge to nowhere'
By Kathy Cline / ADOT Communications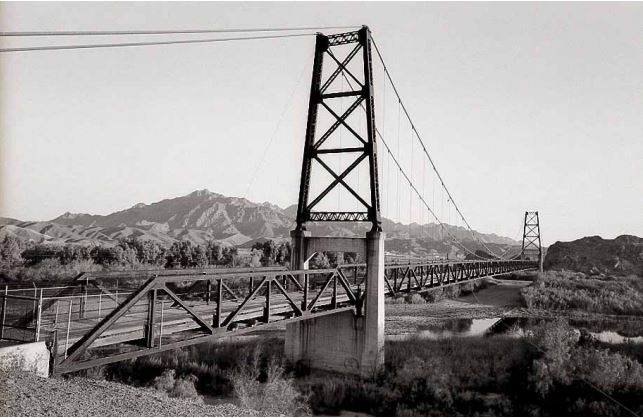 The year was 1928. Antelope Bridge, built in 1915 over the Gila River near Yuma, was sustaining damage with nearly every flood. Repair bills were mounting. The state decided to abandon the bridge completely. 
Arizona State Engineer Lamar Cobb decided to build a long suspension bridge over a ford in the river at Dome, about 15 miles east of Yuma. It would be named McPhaul Bridge, in honor of Henry Harrison McPhaul, a Yuman who served with the Arizona Rangers. 
In January 1928, the Arizona Highway Department contracted with the Levy Construction Co. of Denver to build the structure for $152,454 (that's around $2.28 million in 2019 dollars). Although highway department engineers had outlined the bridge's location and span, Levy engineered the bridge with the assistance of nationally known consulting engineer Ralph Modjeski, a pioneer in the design of suspension bridges.
Construction began in mid-1928 and was completed in December 1929. McPhaul Bridge carried traffic on US 95 until 1968, when it was deemed unacceptable for modern, heavier cars. A new dam was built upstream that rerouted the river, along with a new bridge to carry the highway, leaving the old bridge metaphorically and a bit literally high and dry.
The bridge is in reasonably good condition today; one can even see the wooden spans under it. However, due to safety concerns because of its age, you can no longer walk or drive across the bridge. Because it sits in the middle of the desert (check out the map below to see its location and proximity to US 95 and Yuma), some on the internet have taken to calling it Yuma's bridge to nowhere.
McPhaul Bridge is a historic piece of Arizona. Suspension bridges are rarely found in this part of the country. And to find one from the pre-Depression era in as good of a condition as McPhaul is even more rare. The bridge was also an integral link on a regionally important north-south highway in western Arizona.