Rectangular Rapid-Flashing Beacon (RRFB)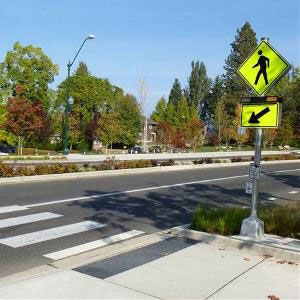 The rectangular rapid flash beacon (RRFB), is a traffic control device designed to increase driver awareness of pedestrians crossing roadways at marked midblock crossings or uncontrolled intersections. The beacons consist of rectangular shaped amber light emitting diodes (LEDs) installed below pedestrian warning signs. The beacons remain "dark" until a pedestrian desiring to cross the street pushes the call button to activate the flashing lights. The lights flash in an irregular flash pattern that is similar to emergency flashers on police vehicles. The flashing lights are intended to attract the driver's attention and reinforce the driver's duty to yield to pedestrians in the marked crosswalk.
Municipalities in the state of Arizona that have constructed RRFB's include Chandler, Flagstaff, Gilbert, Mesa, Phoenix, Pima County, Scottsdale, and Tucson.
Countermeasure Tech Sheet