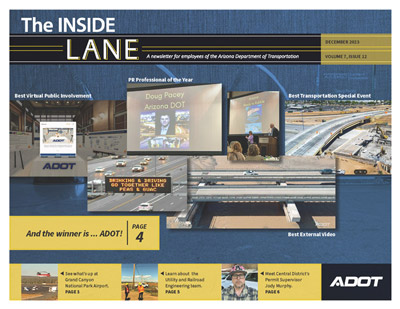 The Inside Lane December 2023
The Inside Lane December 2023
And the winner is .... ADOT!
See what's up at Grand Canyon National Airport.
Learn about the Utility and Railroad Engineering team.
Meet Central District's Permit Supervisor Jody Murphy.
Appraisal Agreement
I hereby agree that I am accessing the ADOT appraisal for this excess land parcel for informational purposes only and agree that I will not reproduce or otherwise utilize the information in the appraisal with the intent to sell the information or for any other unauthorized or illegal purpose.