I-17 Improvement Project
I-17 Improvement Project
Contents
Overview
Plan for major roadwork along Interstate 17 between Anthem Way and Sunset Point until 2025.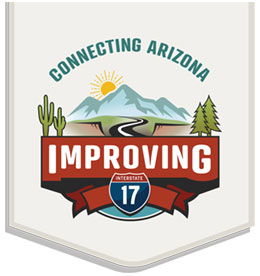 The 23-mile section of Interstate 17 (I-17) between Anthem Way and Sunset Point is one of the most heavily utilized roadways in Arizona, seeing more than 1 million travelers each year.
Currently, I-17 has two travel lanes in each direction between Anthem Way, north of Phoenix, and Flagstaff. The highway passes through rolling terrain in the southern and northern segments and mountainous terrain with steep, narrow lanes between Black Canyon City and Sunset Point.
We look forward to improving this stretch of I-17 north of Phoenix. The work includes widening 15 miles of roadway, replacing two bridges and widening 10 others, and constructing approximately eight miles of flex lanes.
Project Area Map