Road Tests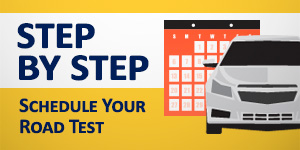 Getting ready
Road tests are by APPOINTMENT ONLY. To schedule your appointment, visit AZ MVD Now.
Also, consider an Authorized Third Party Driver License location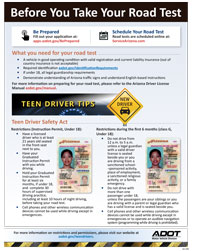 where you can frequently walk-in with no wait. (a convenience fee may be collected in addition to the appropriate state fees.)
About your road test
If a road test is required, you may drive a test route that has a variety of traffic situations. An examiner will ride with you in your vehicle and give you directions to follow. You will be observed and graded on specific actions and on your general ability to operate the vehicle safely. Examiner instructions will be in English.
Parking test: Before going out on the road, you will be required to pass a parking test. Successful completion of a three-point turn is required at all MVD offices that offer road tests, with the exception of Coolidge, Holbrook, Nogales, Payson, Show Low, Tempe and Winslow, which require parallel parking.
Road tests may be suspended due to extreme weather or safety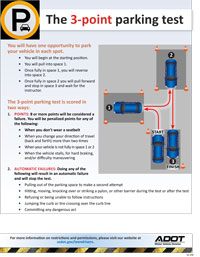 conditions.
Where to take your road test
Note: A parent or legal guardian will be required to accompany a teen driver who is applying for a driver license.
Para recibir información en español haga clic aquí: Antes de hacer su examen de manejo
Commercial Vehicle Tests
Please note: Commercial driver license testing must be scheduled through the offices that provide the services.