Special Restricted Driver License (SIIRDL)
Special Restricted Driver License (SIIRDL)
In cases involving driver license suspension/revocation resulting from a DUI-related violation date on or after Feb. 1, 2006, you may be eligible for a special restricted driver license if you have
contacted MVD to verify eligibility (or received a notice of eligibility from MVD).
no other outstanding withdrawal actions pending on your driving record.
installed an ignition interlock on your vehicle and provided MVD proof with a "Verification of Installation" form.
complied with mandatory alcohol treatment programs (if required) and submitted proof of completion to MVD.
submitted proof of future financial responsibility to MVD (e.g., certificate of automobile liability insurance known as an SR22).
paid all applicable fees.
Please Note: A SIIRDL is not a requirement and is not credited toward any other Ignition Interlock Order that may be present on the driver record.
A violation during your SIIRDL time may result in a cancelation of your restricted interlock license.
Your SIIRDL will expire the same date as the suspension/revocation that the SIIRDL is attached to.  When your SIIRDL expires, it is against the law for you to continue to drive until you have complied with all state requirements. 
You may also be required to
complete a Revocation Application.
continue your SR22.
continue to maintain a Certified Ignition Interlock Device.
reinstate your driving privileges.
pay all applicable fees.
Driving Restrictions
The license is valid only during the period of suspension or revocation and allows vehicle operation between a
place of employment during specified periods of time while at employment.
place of employment and the person's school according to the person's employment or education schedule.
place of employment or school and the office of a health professional as defined in A.R.S. § 32-3201.
place of employment or school and a screening, education or treatment facility for scheduled appointments.
place of employment or school and the office of the person's probation officer for scheduled appointments.
place of employment or school and a certified ignition interlock device service facility.
location designated for the purpose of parenting time as defined in A.R.S. § 25-401 (Effective 12/31/2018) or to transport a dependent who is living with you, between your residence and the dependent person's employment, school or medical appointment (Effective 12/31/2018).
Please Note: Have your interlock device installed first and then reinstate your driver license. Specific steps are required to establish a starting point for your required ignition interlock time frame. You can reinstate online or visit an MVD or Authorized Third Party office.
Reinstate your driver license online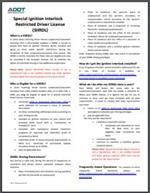 Special Ignition Interlock Restricted Driver License (SIIRDL) pamphlet (99-0176)