Contact MVD
Doing business with us:
Online
MVD services from home: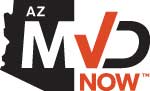 Activate your AZ MVD Now account and do the service online.
In Person
MVD Offices Are Open
For your convenience, schedule an appointment at AZMVDNow.gov. Walk-ins are also welcome.
Phone
For information or questions:
Call: 602.255.0072
Hearing/Speech Impaired TDD: 602.712.3222
Hours
Monday-Friday (except on state holidays)
8 a.m. to 4:30 p.m.
Please have your driver license number, plate number or vehicle identification number ready.