ADOT to start repairs along US 89A following House Rock Flood
ADOT to start repairs along US 89A following House Rock Flood
PHOENIX – After heavy rainfall on Aug. 9 blanketed miles of US 89A between Marble Canyon and Jacob's Lake with mud and boulders, the Arizona Department of Transportation has been working swiftly to restore the highway to its previous condition.
The House Rock Flood was caused by approximately one-and-a-half inches of rain in less than 20 minutes, according to the National Weather Service. As a result, crews were busy last week clearing mud and debris that collected on the roadway and in box culverts underneath the roadway to prevent possible damage during future storms.
The crews, aided by heavy equipment including an excavator and road graders, removed some boulders that were as large as 15 feet in diameter that traveled approximately two miles from the Vermillion Cliffs.
Currently, less than one-half mile of US 89A is restricted to one-way traffic at milepost 551, approximately 12 miles west of Marble Canyon. Due to the remote location and low traffic volumes, there have little to no delays in this area.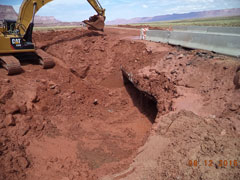 "We have now moved into Phase Two of the recovery efforts following the House Rock Flood," said ADOT Flagstaff District Engineer Audra Merrick. "Crews worked tirelessly last week to open inlets to protect the roadway from future rainfall and our engineers have completed their assessment for possible damages. Fortunately, there were no major damages to the infrastructure, but we have identified significant repairs that need to be completed before we fully reopen the highway."
Prior to re-establishing two lanes of traffic at this location, ADOT will repair three box culvert structures and drainage channels that allow flood waters to safely pass underneath the roadway and perform additional roadway/pavement work.
ADOT is currently pursuing a contractor to work on the repairs. At this time, there is no estimate for when the repairs will be completed.
For the most current information about highway closures and restrictions statewide, visit ADOT's Travel Information Site at az511.gov, follow us on Twitter (@ArizonaDOT) or call 5-1-1.