ADOT works with Historic Route 66 community as bridge project nears
ADOT works with Historic Route 66 community as bridge project nears
PHOENIX – Connection with Interstate 40 is the lifeblood of a Historic Route 66 town like Seligman, where many tourists drop in for a taste of those neon-lit days gone by.
That's why the Arizona Department of Transportation is partnering with Seligman to let travelers know the town will be accessible while ADOT improves bridges leading from I-40 to the west side of the community, which is about 60 miles west of Flagstaff.
While the second I-40 exit (Exit 123) and route to Seligman's east side will remain open, a $4.3 million project starting Monday, June 11 will replace decks on three bridges between I-40 exit  121 and the west side of Seligman. These bridges are between 40 and 50 years old, and the current decks need heavy maintenance. After the 10-month project, new bridge decks will provide a smoother ride into Seligman for decades.
"ADOT understands there is never a convenient time to do construction work, but we partner with local businesses and communities to do what we can to support them through a project," said Alvin Stump, district engineer for ADOT's Northwest District.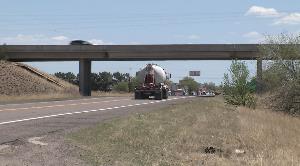 ADOT representatives have met with Seligman business owners to listen to concerns and suggestions and to coordinate on ways to let travelers know Seligman will remain accessible from I-40.
The result: Signs on I-40 will direct travelers to exit 123, connecting to the east side of Seligman. ADOT also has produced a brochure and video explaining the project and noting that visitors will be able to reach Seligman from I-40 throughout the project.
"You just have to go two more miles to the next exit," said Bob LaJeunesse, ADOT resident engineer for the project. "Also, Historic Route 66 will be open east and west, and you can still get to your favorite restaurants and tourist attractions."
For more information on this project, visit azdot.gov/projects and click on the Northwest District.