At Bell and Grand, future eastbound US 60 is getting a makeover
At Bell and Grand, future eastbound US 60 is getting a makeover
SURPRISE ‒ Construction of an interchange and overpass that will improve traffic at Grand Avenue (US 60) and Bell Road is moving forward in stages.
A current focus of the Arizona Department of Transportation's $41.9 million improvement project is giving eastbound lanes of US 60 a makeover.
With Grand Avenue traffic temporarily sharing reconstructed westbound lanes, the eastbound side is now dirt. The old asphalt pavement has been removed, and a variety of utility relocation work is underway.
Work on the overpass that will carry Bell Road over Grand Avenue includes concrete deck pours scheduled in the coming weeks. Crews also continue to install sections of retaining walls that will be part of the overpass.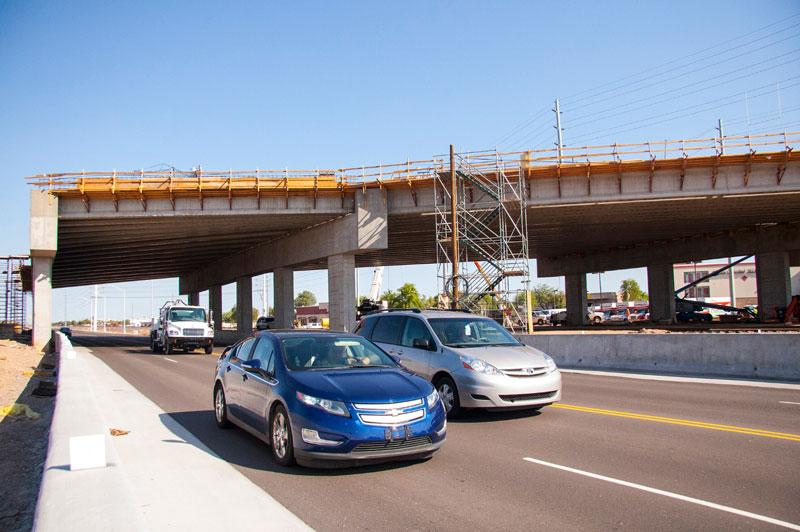 As is the case for ADOT projects across the state, no short-term closures will be scheduled on the Bell/Grand project over the extended Labor Day weekend. Drivers are asked to stay alert and use caution in work zones.
Businesses in areas close to the project are open during construction, and access points for customers are available while Bell Road is closed between 134th Avenue and West Point Parkway.
Bell Road is scheduled to reopen to traffic in time for the start of the holiday shopping season in November. The entire Bell/Grand interchange project is scheduled for completion in spring 2017.
This project is part of the Maricopa Association of Governments' Regional Transportation Plan.