Bell Road overpass construction advances at Grand Avenue
Bell Road overpass construction advances at Grand Avenue
SURPRISE – Piece by piece, square foot by square foot, crews working on the Arizona Department of Transportation's $41.9 million Grand Avenue (US 60)/Bell Road interchange project are building the overpass that will carry Bell Road over Grand Avenue.
Concrete for one part of the Bell Road bridge deck was poured and allowed to set over the weekend of Aug. 13-14. To allow the next stage of that work, Grand Avenue is scheduled to be closed in both directions between Dysart and Litchfield roads from 9 p.m. Sunday, Aug. 28, to 5 a.m. Monday, Aug. 29.
With two-way traffic along Grand Avenue now sharing the recently widened and paved westbound lanes near Bell Road, crews are focused on relocating and improving underground utilities along the closed eastbound side of US 60 within the work zone. A significant portion of the eastbound pavement has been removed while the utility work is being accomplished.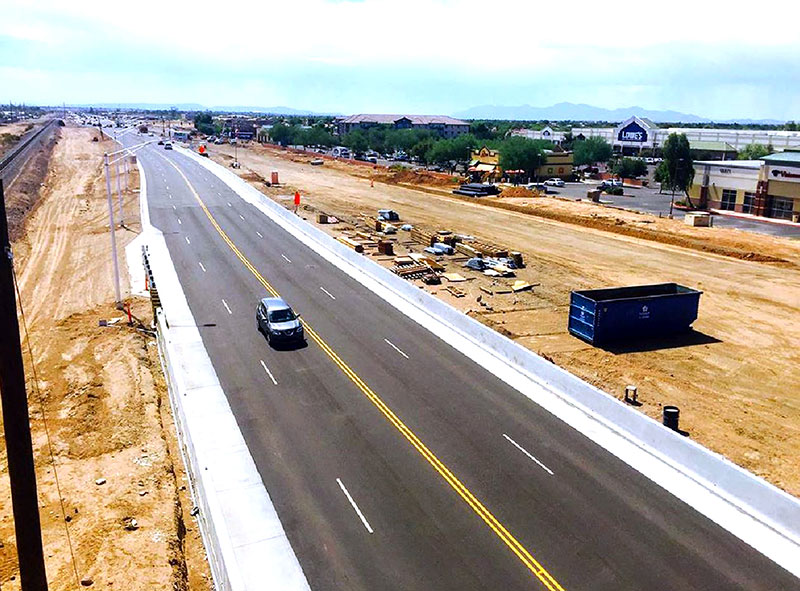 Businesses in the area are open during construction. While some driveways along Grand Avenue have been closed, some were scheduled to reopen by Sunday, Aug. 21. That includes driveways for Chick-fil-A and The Vitamin Shoppe. Alternate entrances are always available.
The Grand Avenue/Bell Road interchange project is being constructed with the design-build contracting method, which provides flexibility as the contractor's design team works side-by-side with construction contractors to deliver the project as soon as possible.
The Bell Road overpass remains on schedule to open to traffic by late November, in time for the holiday shopping season. The entire project, which began in January, is scheduled to be completed in spring 2017. The interchange, including the Bell Road overpass traveling over Grand Avenue and the nearby BNSF Railway tracks, is designed to provide a significantly improved flow of traffic in the area for decades to come.